The first thing I remember really, really, really, really, really wanting to do was to drive.
If you are not remotely close to legal driving age (or you don't live in a farm family so you can drive vehicles on the farm), how can you deal with that desire? There were, and perhaps still are, two ways. One is by buying and/or reading every car magazine you can get your hands on, from Motor Trend (a magazine famously known for never negatively reviewing a car, perhaps due to advertising revenue reasons) to Hot Rod (cars improved by fat wheels and tires, worked-upon engines, and paint schemes no manufacturer will sell you) to Car Craft (fast cars with a dollop of snark).
The other way in my case was to visit car dealers and take, then read, car catalogs. (Which, my mother would then add, would pile up in my room.) Car catalogs can be worth amazing sums of money now based on the rarity of the car and the catalog. (Unless said catalog included checkmarks and circles from the original reader as to what he would order, which greatly diminish the value of the catalog. I would go through and see what I had to get if I got, for instance, air conditioning, back in the days when car A/C was rare, and darn it to heck if I couldn't get the biggest engine with a manual transmission.)
Before I left home, my parents may have grabbed these to make their auto purchases:
The first car of theirs I remember was a 1966 Chevy Nova wagon, in dark red. That was followed by …
… a 1969 Chevy Nomad wagon. It was LeMans blue, and it had the 350 V-8, Powerglide two-speed automatic transmission, power steering and brakes, roof rack, and power tailgate. The dealer-installed accessory presumably not included in the catalog was clear plastic dimpled seat covers for cleanup of the messes the back-seat occupants might generate. (You'll notice the lack of the words "air conditioning" before now in this paragraph. Said seat covers could get infernally hot, at least to a four-year-old's definition.)
The Nomad was augmented by their first second car, a 1965 Chevy Bel Air sedan, purchased six years old. (That's why it's not pictured here — a point I will get to eventually.) Two years later came their first new second car …
… a 1973 AMC Javelin, dark brown with a gold side stripe that started cracking about 32 seconds after the car left the dealership. This car had a 304 V-8, automatic, and power steering but not power brakes. (Nor did it have a parking brake indicator, which resulted in an interesting moment when someone tried to drive off with the parking brake.) This was the first car I drove.
The aforementioned Nomad was replaced by …
… our 1975 Chevy Caprice Classic coupe, the 18-foot-long two-door sedan, dark red with dark red full (not landau) vinyl roof and a red interior, with room for as many people as we ever wanted to fit in it, and all their stuff in the trunk.
A few years later, my parents saw their oldest son's age nearing the magic 16, concluded that another car might be needed, and purchased …
… a 1981 Chevy Malibu Classic sedan, black with a black vinyl roof. This was for its day a good looking car. And that is the only good thing you could say about it, other than the fact that I passed my driver's license test in it … the second time I took the test. Before that, the neighbor's bratty little kid's throwing rocks at it and chipping the paint was the first tipoff that the ownership experience was going to be less than satisfactory. ("Malibu" apparently is a French word meaning "lemon.")
Upon having a fourth driver in the house, my mother apparently decided she needed a car more often than her oldest son was willing to part with the Caprice, so she bought …
… a 1985 Chevy Camaro, in bright red. The only problem I noticed with the Camaro was my trying to get in and out of it — to get out required me to put my hand on the ground to brace myself for exit. I am pretty sure no one ever sat in the back seat. Otherwise, it looked close enough to Thomas Magnum's Ferrari that I once borrowed it to go someplace wearing a Hawaiian-like shirt. (Well, Tom Selleck and I are both 6-foot-4, and we have mustaches.)
Then I left home and took the Caprice with me. After paying for alarming (to me anyway) repair bills for the 14-year-old Caprice (in addition to paying for gas for a car that got, by then, 11 to 16 mpg in the hideous days of $1.30 a gallon gasoline), I decided to buy my first car, a 1988 Chevy Beretta. That car replaced the repair-bill experience with the car-payment and repair-bill experience. (Apparently "Beretta" is the Italian synonym for "Malibu.")
After two years, thanks to the marvel of 2.9-percent financing, I bought my first new car …
… a 1991 Ford Escort GT, a car that, as you see, had its own special catalog. Which is how I noticed the car in the first place, because of the Cayman Green Metallic paint. (That was at a dealership that was so uninterested in selling me a car that I bought it from another Ford dealer.)
The Escort lasted seven years and 127,000 miles, but we needed more room and the car was starting to fall apart, so it was replaced by …
… a 1998 Subaru Outback, on which we put 228,000 miles.
Car catalogs showed off the vehicle in perfect condition, unmaligned by such realities of life as dirty rain, bird droppings, road salt, or leaks of brown (oil), red (transmission fluid), green (antifreeze) or whatever else. In fact, creative art designers would make the car look better in print — catalogs or print ads …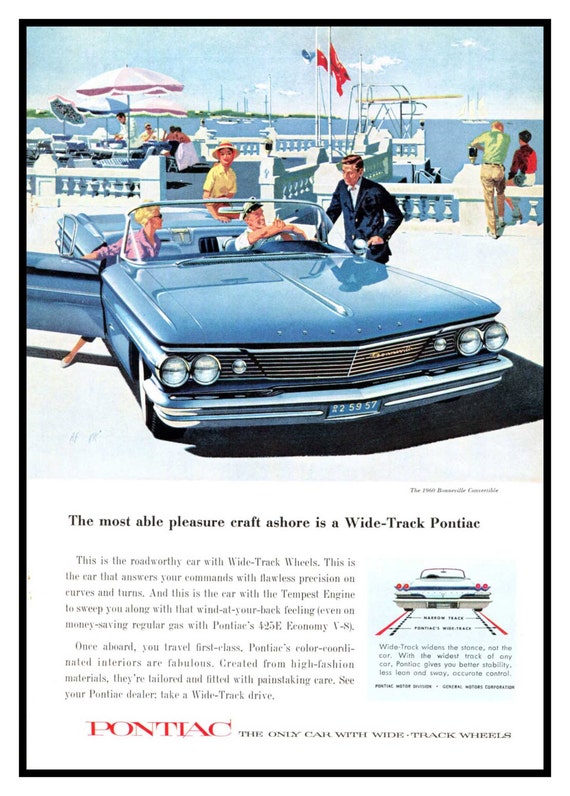 … than it existed even in showroom condition.
Car catalogs also showed the drivers and passengers just short of ecstatic about their ownership experience, which is a damned lie based on the reliability of cars of the '70s and '80s.
Not to mention, obviously, comfortably well off. These are classic examples of the mastery theme of advertising I learned in journalism class in high school — buy this car, and your life will be so much better.
(The corollary to car catalogs, by the way, was owner's manuals, which I would borrow and read more religiously than the car owners. But that is a subject for another week.)
For whatever reason, car dealers let me waltz in and grab what I wanted, even when I was all of 10 years old. I was even able to grab catalogs for vehicles I was unlikely to drive at any point, let alone when I reached driving age. For instance …
(Actually, I have driven trucks this size. Moving trucks. Based on past experience, I suggest the biggest International moving truck you can legally drive. The International DT466 diesel moves the truck surprisingly well, in sharp contrast to the similar Isuzu diesel, which is a dog.)
As I was writing this it occurred to me that my best friend growing up was the son of a salesman of International trucks, back when International sold pickup trucks and four-wheel-drive Scouts and Travelalls.
He never gave me one of these, though.
No discussion of car catalogs that involves me would be complete without, of course …
… the Corvette, whose catalogs I was able to get even though the car dealers from which I got these catalogs probably sold zero of them. It was, I believe, with the introduction of the C4 Corvette that Chevy dealers started charging for Corvette catalogs — $6 sticks in my mind for some reason. So I stopped getting them up until I got into the business magazine world, where I discovered that the car manufacturers would send you catalogs by request, including of the Corvette. I also got, even better, press kits, including the breathtaking announcement of the newest Chevy Impala and its revolutionary new design feature … an ignition switch on the dashboard, last seen in 1968.
Car dealers still have car catalogs, though more information — including the opportunity to order what you want, and have the dealer find one, and a sales representative contact you — is available online. When I go to the Iola Old Car Show, I still look at the old catalogs, though, and I even own a couple, including: