This was the tease of the new Under Armour designs …
Jim Polzin previewed Thursday night's unveiling of UW's new Under Armour apparel with interesting background about the UW athletic business:
Friday is also significant in that it marks the start of contracts between UW and Fermata Partners (trademark and licensing), Aspire (sports beverage) and Fanatics (online retail), as well as the renewal date for UW's contract with Gold Country Inc., which operates Bucky's Locker Room.

"Excited is an understatement," said Chris McIntosh, an associate athletic director for business development at UW. "We've been counting down to July 1 for a long, long time. It's kind of like tick-tock-tick-tock right now."

McIntosh, who was a standout offensive lineman under [now-athletic director Barry] Alvarez, was an entrepreneur in the fitness and wellness industry prior to being hired at his alma mater in late 2014.

One of McIntosh's primary objectives was to cultivate new partnerships, and he immediately set his sights on finding innovative companies who would help UW move forward.

McIntosh believes the athletic department's newest relationships will help fulfill that goal.

In the deal with Under Armour, which is worth around $100 million, UW has found a partner that has become a giant in its industry in large part because it catches consumers' attention through story-telling.

Under Armour made an unannounced visit to Madison while it was courting UW and spent four days gathering information for a brand audit. When it made a presentation to Alvarez and others in Maryland in February 2015, the UW contingent was impressed by how well Under Armour's vision aligned with the athletic department's.

But not everything the Under Armour representatives said that day was pleasant to hear for the visitors from Madison. The company pointed out some of UW's shortcomings, particularly when it came to inconsistencies on uniforms and in fonts and logos used by UW.

"But they did so in a tactful way," McIntosh said, "and they quickly made a convincing case that they could help us with it."

In Aspire, UW has joined forces with a company that is relatively young — it was founded in 2012 — yet has earned its way onto shelves at major retailers such as Target, Costco and Sam's Club, among others.

What impressed McIntosh the most about Aspire, which replaces Badger Max Inc. as UW's official sports drink, was its dedication to being a healthy alternative compared to its competitors. Aspire has 35 calories and 8 grams of sugar per 12-ounce serving with no artificial colors, flavors or sweeteners.

In Fermata Partners, which takes the place of the Collegiate Licensing Company, McIntosh believes UW, which generates more than $60 million in annual retail sales, has found a company with bright minds that will help the Badgers both protect and grow their brand.

The list of programs Fermata has partnered with since forming in 2012 is impressive: Kentucky, Notre Dame, Oregon, Georgia and Miami (Fla.).

"They've got a different way of doing business than their competitors," McIntosh said. "Fermata's strategy is, 'We don't want 125 partners; we want the right partners and the right brands.' So they've been very selective about the brands that they partner with."

McIntosh sees a common thread among Under Armour, Fermata and Aspire: All began as underdogs who weren't intimidated by established powerhouses in their respective industries, whether it was Nike or Collegiate Licensing Company or Gatorade.

"At some point, there's a moment of truth when you have to believe you can," McIntosh said before tying those companies to the UW athletic department's own rise from underdog status.

"Barry Alvarez, the same way. What he was successful at doing here is convincing some kid from Pewaukee that, 'Why not us?' And that we could compete with Michigan, Penn State and Ohio State."

The process of forming new relationships has led to UW taking a step back to look at itself in the mirror, according to McIntosh.

"All these partners are looking at us and telling us what they see in us," he said. "And, honestly, all of them were pretty darn close. But I think it just caused us to pause and say, 'Here's an opportunity for us to clearly articulate what we're all about.' "

At a department-wide meeting this month, McIntosh made a presentation with the intent of starting what he calls "a journey" for an answer. The question: Why Wisconsin?

Let McIntosh explain:

"Wisconsin, our program, our brand, stands for something," McIntosh said. "We value it. People talk about it. But it's something that's kind of felt and it's difficult to articulate. It's hard to really put your finger on exactly what it is.

"So we're kind of in the middle of this exercise. It's ongoing. Basically everybody in our organization has been asked that question, and we're going to hopefully get to the point where we can put our finger on that one simple sentence — for me, for me it's elevating the lives of these (student-athletes)."

The way McIntosh sees it, the convergence of partnerships in the different facets of the athletic department has given UW an opportunity to be better equipped to tell its story.

"It's really kind of an exciting time," McIntosh said, "because there's a lot of optimism about the potential of the future."
So what was unveiled Thursday night?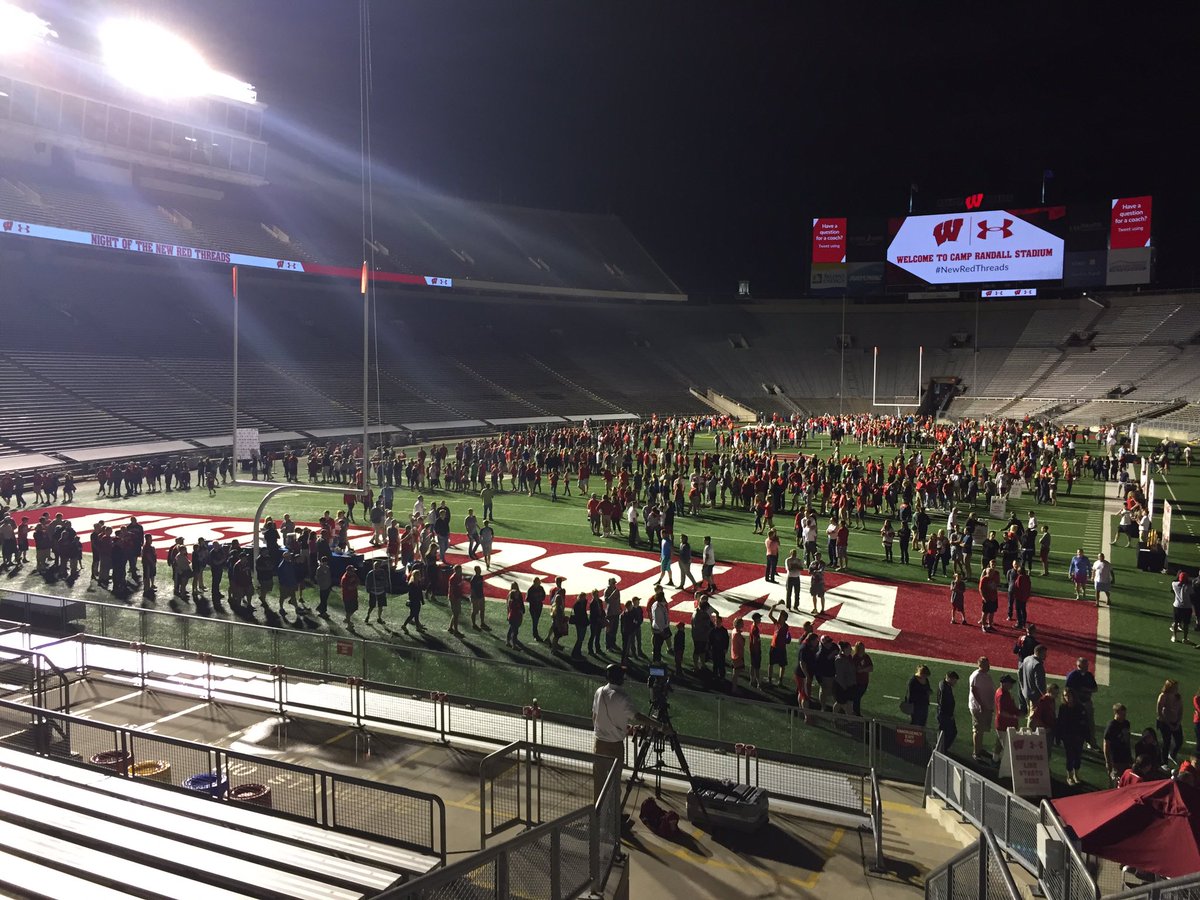 There's a new Camp Randall Stadium end zone design. There are not, apparently, new uniforms yet, or last night's event was for the purpose pf hype and selling more fan stuff.
Read through McIntosh's comments about fonts and one could conclude that the football jerseys, when they show up, might use the Badger font. There are no comments about whether Badger red is actually cardinal or Nebraska red (there are claims that the previous red is Adidas' red), and you can't really tell from a Tweeted night photo whether the red is the same red or not.