Erick Erickson updates this morning's post:
Railroad companies and union leaders averted a national strike that would have sent fragile supply chains into disarray and hiked energy prices. The negotiations were concluded early this morning with a tentative handshake agreement that is expected to hold. While Labor secretary Marty Walsh handled the negotiations, Transportation secretary Pete Buttigieg was touring the Detroit Auto Show.

Buttigieg's habit of missing important moments on the job was previously highlighted when he took an extended paternity leave and no know noticed he was gone.
The Hill
claims you need to know five things, but only one really applies:
Rail workers will soon vote on the tentative deal, and if any of the unions reject it, the nation will once again brace for a railroad strike.

Workers had largely opposed the presidential board's contract recommendations, which ignored their demands for better quality of life and working conditions.

A recent survey from the SMART Transportation Division found that 78 percent of the union's railroad workers would have rejected that contract. Another survey from grassroots group Railroad Workers United found that 9 in 10 railroad workers opposed it.

The International Association of Machinists and Aerospace Workers said Wednesday that its 4,900 railway workers voted to reject the Biden administration-appointed board's contract. It delayed a strike until Sept. 29 to allow more time for negotiations.

It's unclear whether the revamped contract announced Thursday does enough to win over workers, who eagerly awaited the specific terms of the deal.
Meanwhile, speaking of the Detroit auto show, Road & Track reports on this tweet: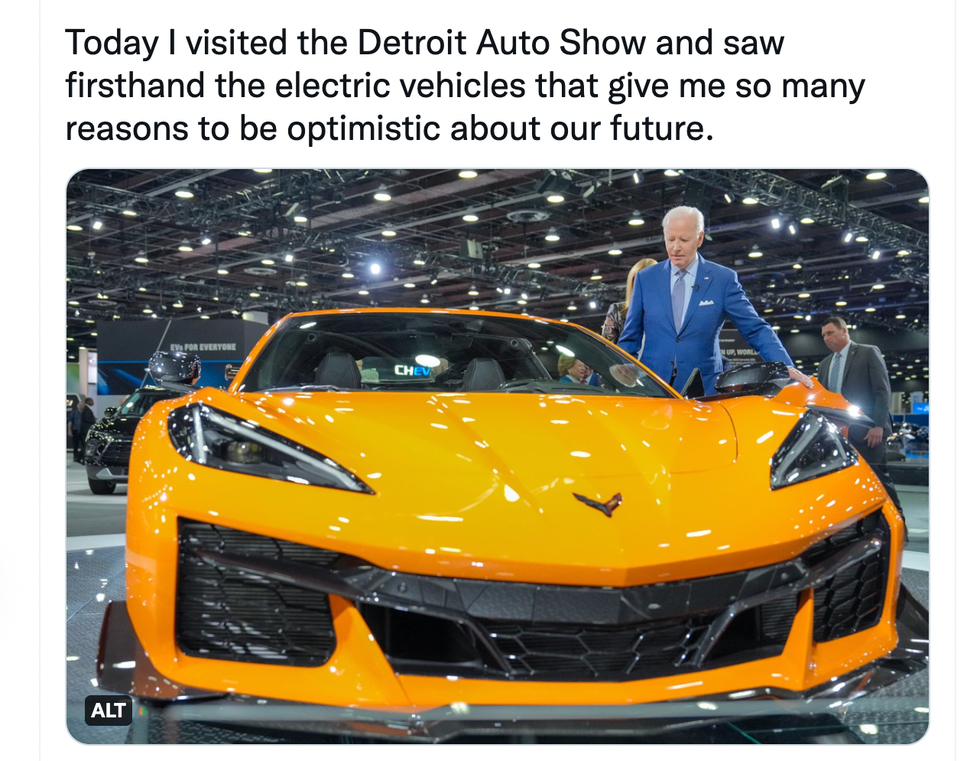 President Joe Biden paid a visit to the Detroit Auto Show floor Wednesday, taking the time to see the latest from America's automakers up close. Among the most interesting parts of his stroll was when he got behind the wheel of the new 2023 Chevrolet Corvette Z06, started it, and gave it some revs. Later that day Biden's official Twitter account published a tweet talking about the electric vehicles he saw firsthand that gave him "so many reasons to be optimistic about our future," alongside a picture of the Z06. Unsurprisingly, car Twitter went mad.

In case you're unaware, the Corvette Z06 is not an electric vehicle. It's far from one, actually. Behind the cabin sits a 5.5-liter naturally aspirated flat-plane-crank V-8 that can rev all the way to 8600 rpm while making 670 hp and 460 lb-ft of torque. Unlike an electric car, it burns gasoline and makes a wonderful noise. 
That is an egregious mistake. Biden's tweet also claimed "As you know, I'm a car guy." That is a lie given his administration's policies that made gas prices skyrocket and made everything, including, cars, more expensive and less affordable. Biden's Federal Reserve Board's increasing interest rates, an effort to stop inflation that hasn't been this bad in four decades, will make vehicles even less affordable by increasing borrowing costs.