Some time ago I mused about what might be the ultimate vehicle for a journalist who needed to be able to do his work anywhere anytime.
And then, to my amazement, I found it. Hypebeast introduces: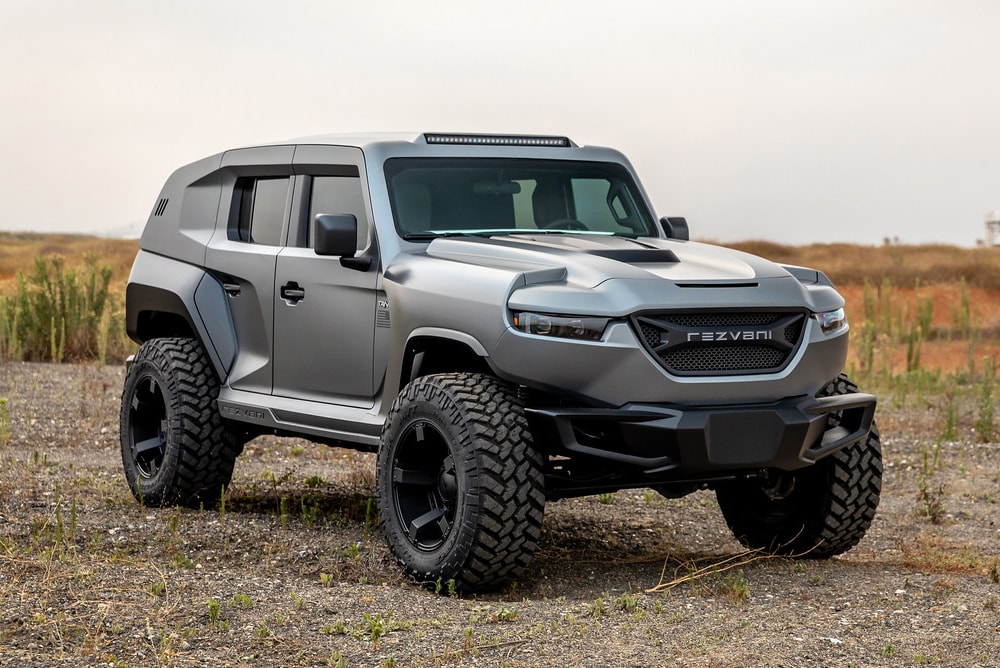 Upgraded from its 2019 model, Rezvani has now created the world's most powerful production SUV with the 2020 Rezvani Tank.

The SUV — which the company calls an "Extreme Utility Vehicle" — is now powered by a Dodge Demon 6.2L supercharged V8 engine, capable of producing 1,000 horsepower, along with 870 pound-feet of torque. With special FOX suspension, 16-inch 8-piston caliper brakes, and T6061 aircraft-grade aluminium design wheels, the on-demand four-wheel-drive vehicle excels in the off-road arena.

Rezvani's military-inspired SUV also comes equipped with an array of mil-spec tech, including full ballistic armor, electromagnetic pulse protection, and thermal night vision. The top of the windshield is equipped with high intensity LEDs capable of turning night into day. As for the interior, Rezvani has kitted out the SUV with white leather panelling and seats that can be heated or cooled, a 7.9-inch central infotainment screen, and a Focal sound system.

Prices start at $155,000 USD for the 2020 Rezvani Tank, and orders are already being taken. Head over to the brand's site to learn more now.
Or go to YouTube:
Choice of engines from standard V-6 (from Chrysler, 3.6 liters and 285 horsepower) to 1,000-horsepower V-8, plus a six-cylinder diesel option. And — be still my beating heart — a choice of an eight-speed automatic or a six-speed manual transmission.
This is not necessarily the largest vehicle out there; it's about the same size as the largest Jeep Wrangler, a few inches shorter than a Jeep Grand Cherokee, and a full foot shorter than a Honda Pilot. (More on that later.)
It seems a bit analogous to the Carbon Motors police car, which was supposed to revolutionize police vehicles as a purpose-built squad car, with BMW diesel engine, built-in emergency lights and radio, and other features. In part because of the bad timing of the Great Recession, only one of what was inevitably called the "RoboCop" car was built.
Rezvani has managed to build more than one. Rezvani also has managed to generate positive PR from reviews, including:
TopGear: "The face may be aggressive, but it masks a vehicle that's deeply likeable. The Rezvani Tank is ready for nuclear war."
The Driver: "You could rule the roads like the evil genius that you've always wanted to be."
Motor1: "For what you pay the Rezvani Tank offers a lot. It looks good, it's powerful and with optional features you can't get on any other SUV."
Univision: "Rezvani ofrece el 4 x 4 más radical que merece una gran película de acción." I mean, "Rezvani offers the most radical 4 x 4 deserving of a major action film."
This screams for configuration, don't you think? And to not suck too much money out of my employer, I'll start with the $159,000 base version, instead of the Military Edition for another $100,000, or the TankX, which doubles the price to $349,000. (At these prices the Tank may cost more than what many weekly newspapers are worth at the moment.)
I chose red just for how it photographs. There is a Military Green, but it's not particularly attractive. I could choose a custom color, for $5,000, which seems like a bargain compared with some of the other options (such as in the next paragraph).
Much as I like the idea of a 1,000-horsepower V-8 (the Dodge Demon), I'm not sure that's worth $149,000. So instead I will economize and, for $40,000, take the SRT 6.4-liter Hemi V-8 and its mere 500 horsepower. (The transmission choice should be obvious.) I decided to splurge on the Sport Exhaust, for $1,750. To stop those 500 horsepower, I spent $5,600 on the Big Brake Kit with eight-piston calipers and 16-inch disc brake rotors.
Towing ability is important, so I added the Towing Package (Dana 60 rear end and tow hitch, for $8,500). Off-road ability may be important, so I added the 2.5 Fox shocks (two per wheel) and four-inch lift kit, for $3,500. On the front end, I chose the steel front bumper and winch, for $5,500. Between the two ends, I chose the Interior Lighting Package (interior and footwell lighting), for $2,500, and in case I have to shoot night photos when people may not want me to, I chose the Thermal Night Vision Package, for $6,500, along with side ($850) and Black Vue front and rear cameras ($500). (The Black Vue cameras record continuously to The Cloud, by the way.)
Again to show I'm not just trying to waste money, I got the Nappa leather seats ($3,500), but not the leather interior ($3,500 more), though I did get the heated seats ($500). And I went with the Premium audio system (four Audison speakers, five-channel amplifier, 10-inch subwoofer, for $4,500) instead of the Ultimate ($10,000 for six Focal speakers, a four-channel amp, two JKL Audio subwoofers and two custom amp racks). If you choose to spend $500 to match your instrument color to your vehicle, you get …
I think it only wise to get the center console safe ($950), dual battery ($2,500), auxiliary gas tank ($7,500), and, of course, electromagnetic pulse protection ($2,500), because it's a jungle out there.
Total it up, and this can be mine for just $212,150, plus whatever sales tax is in California. I have to scrape up $35,000 for a deposit, and then pay the rest upon completion in 10 to 12 weeks.
So what's wrong with this? (Besides the concept that a journalist could afford a $212,150 truck, that is.) For one thing, at Cherokee size the Tank seems, believe it or don't, on the small side. The journalist needs room to, for instance, plug cameras into laptops to download or upload photos, or room to write on said laptop. Room is also needed for the public-service-band radio with which to monitor what police and firefighters are doing. I can't tell from online views how much room there is. (Which made me think, when I first started this exercise, that the ideal base vehicle was a full-size pickup or SUV.)
It appears to lack comprehensive instrumentation, which should include a voltmeter and oil pressure gauge. A sunroof also might be useful, and that is not the Starry Night Headliner (for $6,250).
At $212,000 I'm not buying. (For one thing, Powerball and Mega Millions jackpots have shrunk in the coronavirus world.)
For those who don't like the SUV idea, though, Rezvani does have an alternative …
… the Beast, a sports car powered by a Honda racing engine.