Long-time (or perhaps long-suffering) readers know that I'm from Madison,  I watched a lot of TV as a youth, and I have an interest in media history, including Madison media history.
All of that came together when I was as usual looking for something else and came upon a bunch of TV Guide ads from Madison TV stations that apparently are for sale on eBay. The possible irony here is that my parents never subscribed to TV Guide, though my grandparents (who were able to get both Wisconsin and Iowa TV stations due to living in Southwest Wisconsin) did.
First, some Madison TV history. WKOW-TV, an offshoot of WKOW radio (now WTSO) …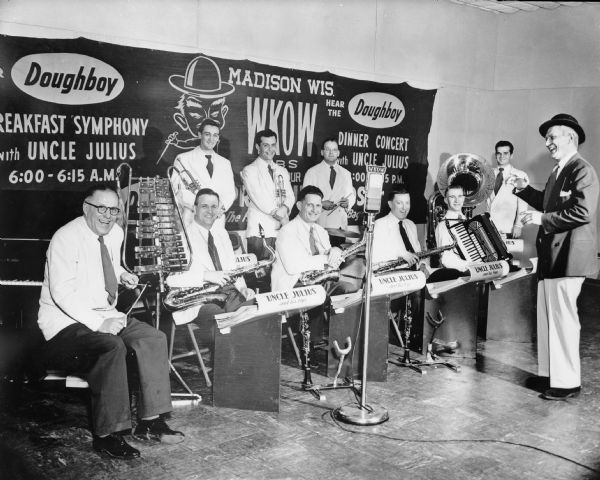 … was Madison's first commercial TV station after the Federal Communications Commission lifted its Korean War-era moratorium on new TV station licenses.
The owners of WKOW ended up creating their own statewide network, starting WAOW-TV in Wausau in 1965, then WXOW-TV in La Crosse, and then WQOW-TV in Eau Claire. (There is also WYOW-TV in Eagle River and WMOW-TV in Crandon.) The TV stations were sold to one company in 1978, another in 1978, and another in 1985, around the time that I was sitting in UW–Madison journalism classes listening to the School of Journalism director say that TV stations were "licenses to print money." Six years later, WKOW's owner filed for bankruptcy, meaning either that my prof was wrong or that TV stations were not always licenses to print enough money. WKOW was then purchased by its previous owner, who had purchased a "beautiful music" FM station in Baraboo with a freakishly large FM signal, changed its format to oldies, and made enough from one radio station to repurchase four TV stations.
WKOW was originally a CBS station because WKOW radio was a CBS affiliate. Station number two was WMTV, originally at channel 33, which went on the air about a week after WKOW.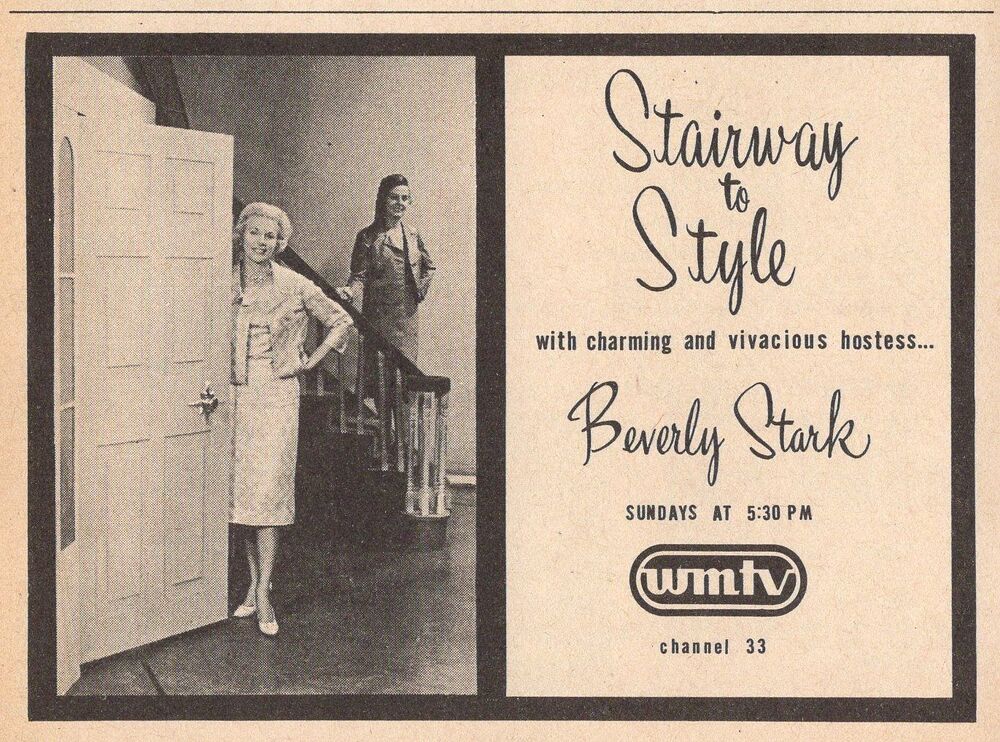 WMTV also originally carried NBC, ABC and Dumont, a practice that in some TV markets continued into the 1980s.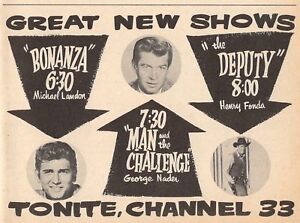 The Dumont network died in 1956.
WISC-TV arrived in 1956 as Madison's only VHF station, on channel 3. WISC-TV was started by WISC radio, which became WISM radio, which was Madison's top 40 radio station, and thus the station most non-adults listened to.
CBS decided that being on channel 3 (more coverage for less power) beat being on channel 27 and moved to WISC, which left WKOW without a network until it got ABC from WMTV, which moved from channel 33 to channel 15 in 1960.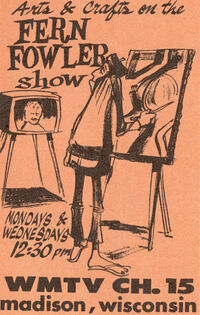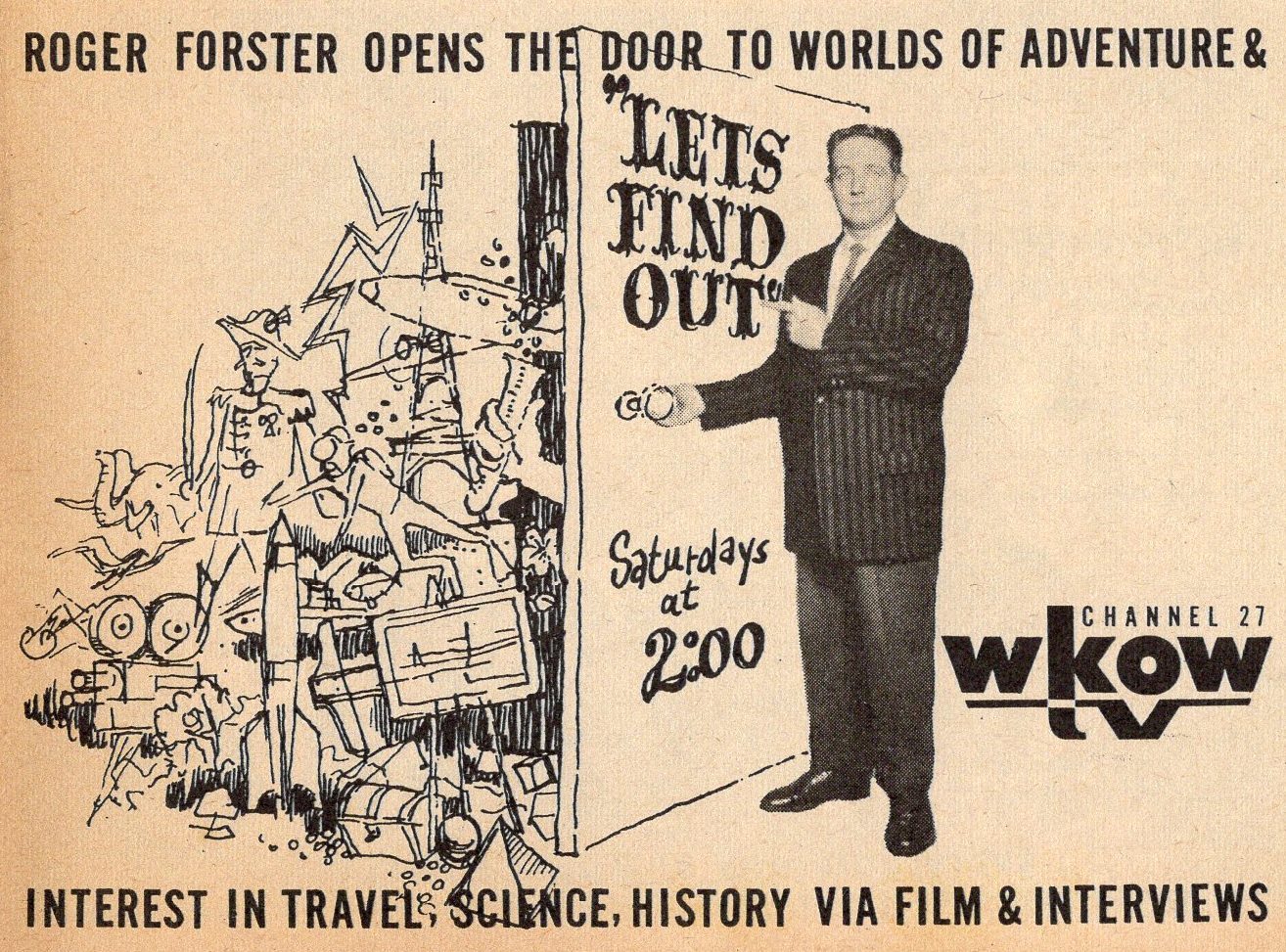 That, however, isn't the whole story about WISC. My source is the late John Digman, former WISC reporter and weatherman (not "meteorologist") who talked to my high school journalism class while working in Madison radio, and sadly died of a heart attack at 40. (His daughter went to La Follette.)
Digman told the class (and I may have been the only student listening to this) that WISC was supposed to be on channel 21 while WHA-TV, the state's first noncommercial TV station, was supposed to have channel 3, but WHA went on the air in 1954 not on channel 3 and WISC went on the air in 1956 not on channel 21.
Speaking of WISC …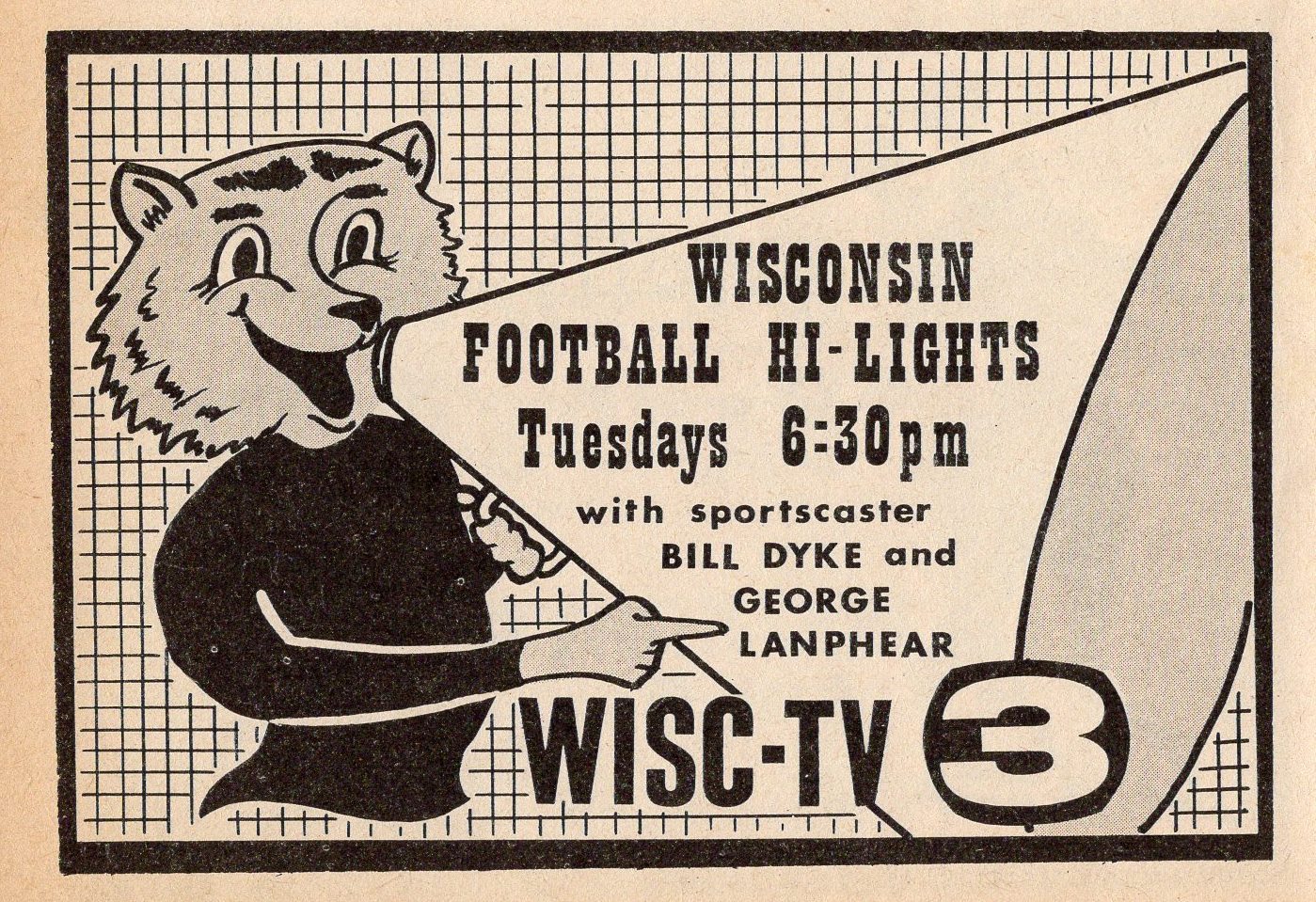 Bill Dyke had one of southern Wisconsin's most interesting careers. He was a disc jockey at WISC and WISM and did sports (at least in 1959 here) and other things on channel 3. Dyke was credited by Vilas Craig, who created southern Wisconsin's first rock and roll band, for playing Vicounts records (with, as you know, my father on piano) on the radio. 
Dyke parlayed his broadcast career into two two-year terms as mayor of Madison. Then he was defeated by Paul Soglin in 1973. Then after Soglin left the first time (voluntarily, as opposed to the other two times), Dyke, who as a side thing was a producer of the movie "The Giant Spider Invasion," …
… and Soglin did a weekly point/counterpoint appearance on WISC's Live at Five. Dyke ended up as Iowa County circuit judge before he died.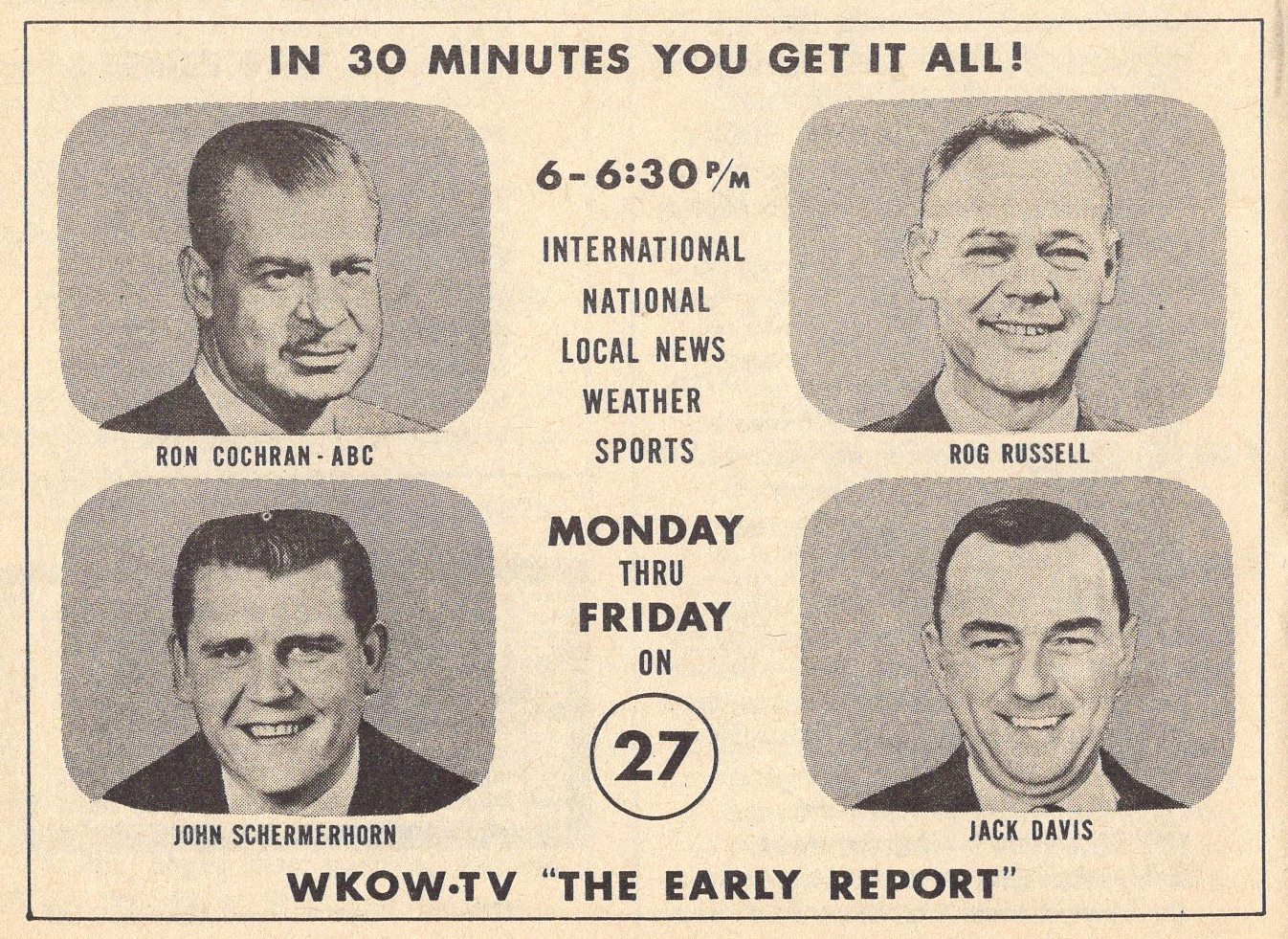 This is from 1964, when apparently ABC's and WKOW's evening news were 15 minutes each. Cochran was a former FBI agent who got to announce John F. Kennedy's assassination on ABC's glitch-filled newscast. Russell later became WTSO's station manager.
That same year …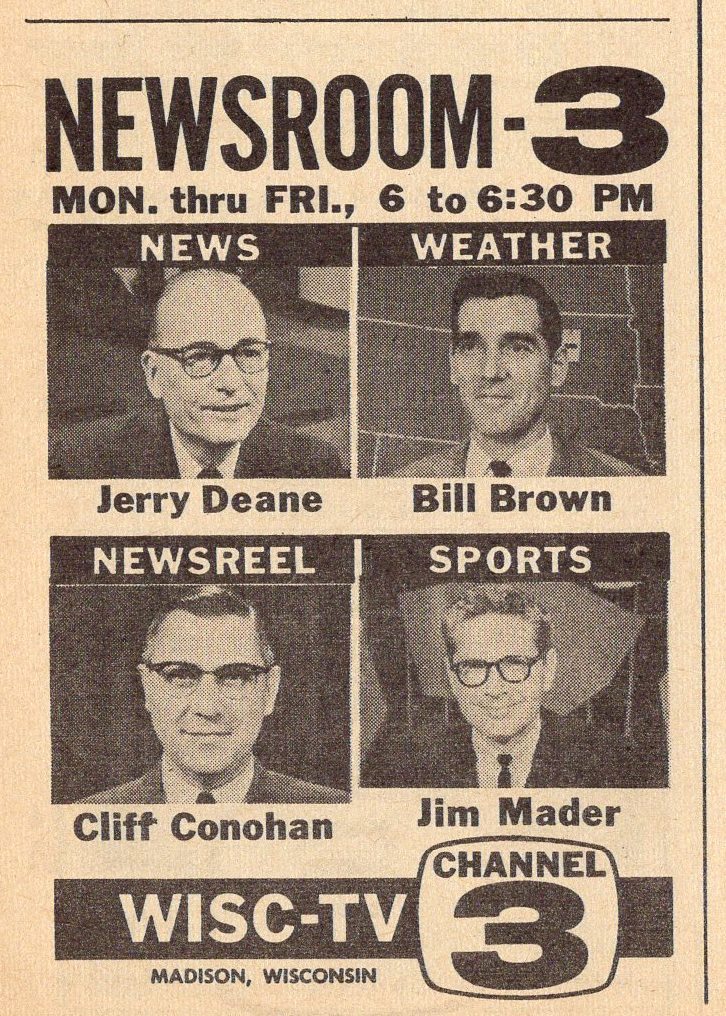 Jerry Deane (real last name Druckenrod) did the news. Bill Brown did weather before moving to news when Deane was moved to "The Farm Hour," where he read not just the news but farm prices. I remember watching Deane reading farm prices and having no idea what any of them meant. (My first Boy Scout Scoutmaster, who worked for Oscar Mayer, told me what "canners and cutters" were.) Mader was better known in Madison for being the morning DJ on WIBA radio and for narrating Zimbrick Buick commercials.
Schermerhorn started in sports, and then apparently moved to sales, but was best known for hosting "Dairyland Jubilee," a Sunday morning polka show.
By 1969, Bob Miller was the sports guy on WKOW TV and radio and its Wausau station, WAOW-TV. Miller's radio duties included Wisconsin Badger hockey, which meant Miller got to announce the Badgers' first national championship. That proved good for Miller's career, because on the recommendation (following pestering, the story goes) of Los Angeles Lakers announcer Chick Hearn, the Lakers' owner hired Miller to announce the Kings hockey team.
Miller's replacement was Paul Braun, who had been announcing hockey (and, one assumes, other sports) at WMAD radio. While Miller got to announce UW's first hockey championship, Braun got to announce the next four (on WTSO and then WIBA), and did cable TV for national championship number six.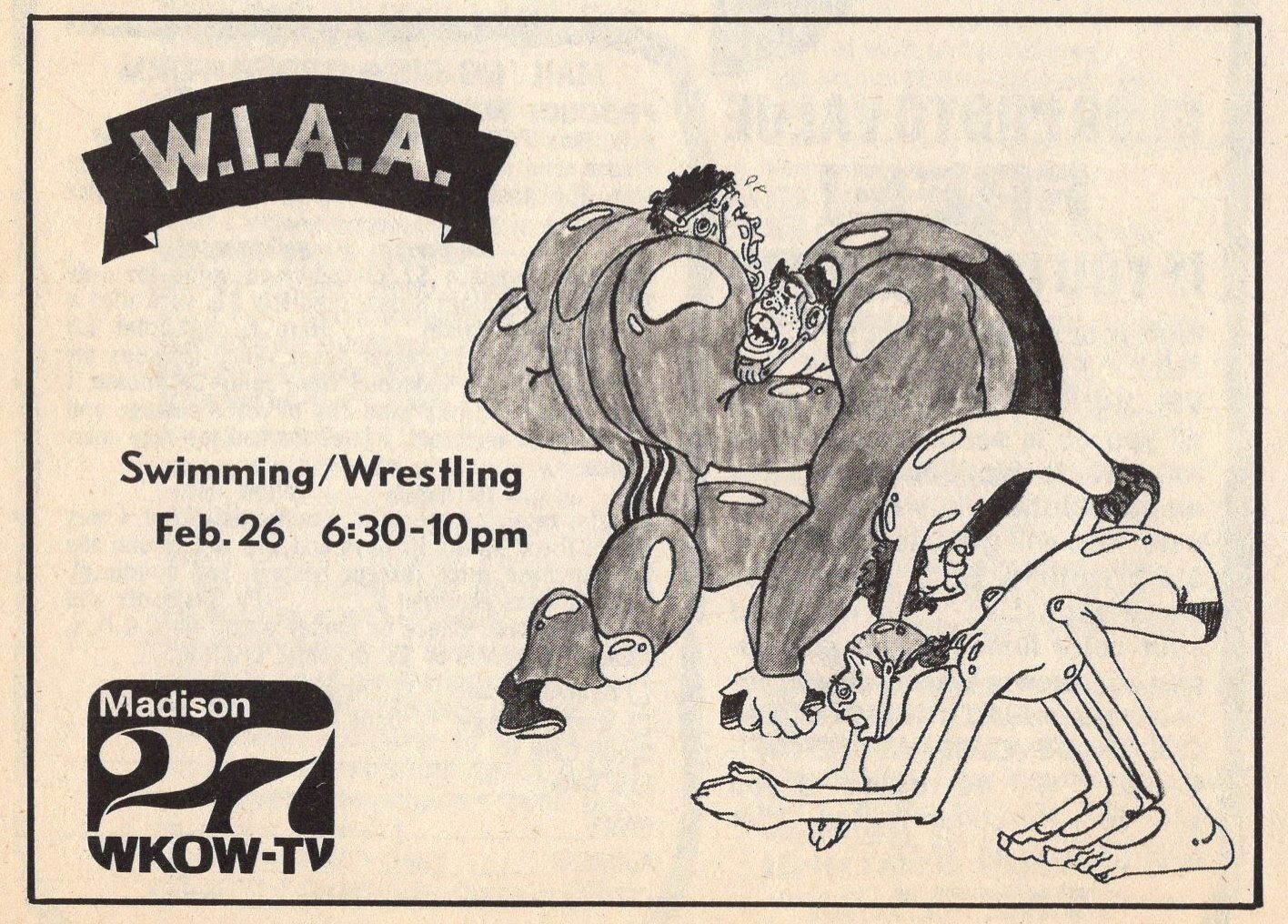 This is from 1977, back when WKOW's month of state tournament coverage began with a tape-delayed broadcast of state swimming from the UW–Madison Natatorium and then live coverage of the state wrestling finals. (Which I got to cover on radio last year for the first time.) One week later was state hockey, followed by girls basketball and then boys basketball — in this case, my alma mater's first state title.
After Miller and before this, WKOW employed Gary Bender, who went to college with the eventual owner of the station. Bender was a busy guy, doing the sports in Madison, announcing Badger football on Saturdays and then announcing Packer football on Sundays, both with Jim Irwin.
WKOW's news anchor for most of the 1970s was Milwaukee native (or so I'm told) Roger Mann, who came to Madison, left and then came back.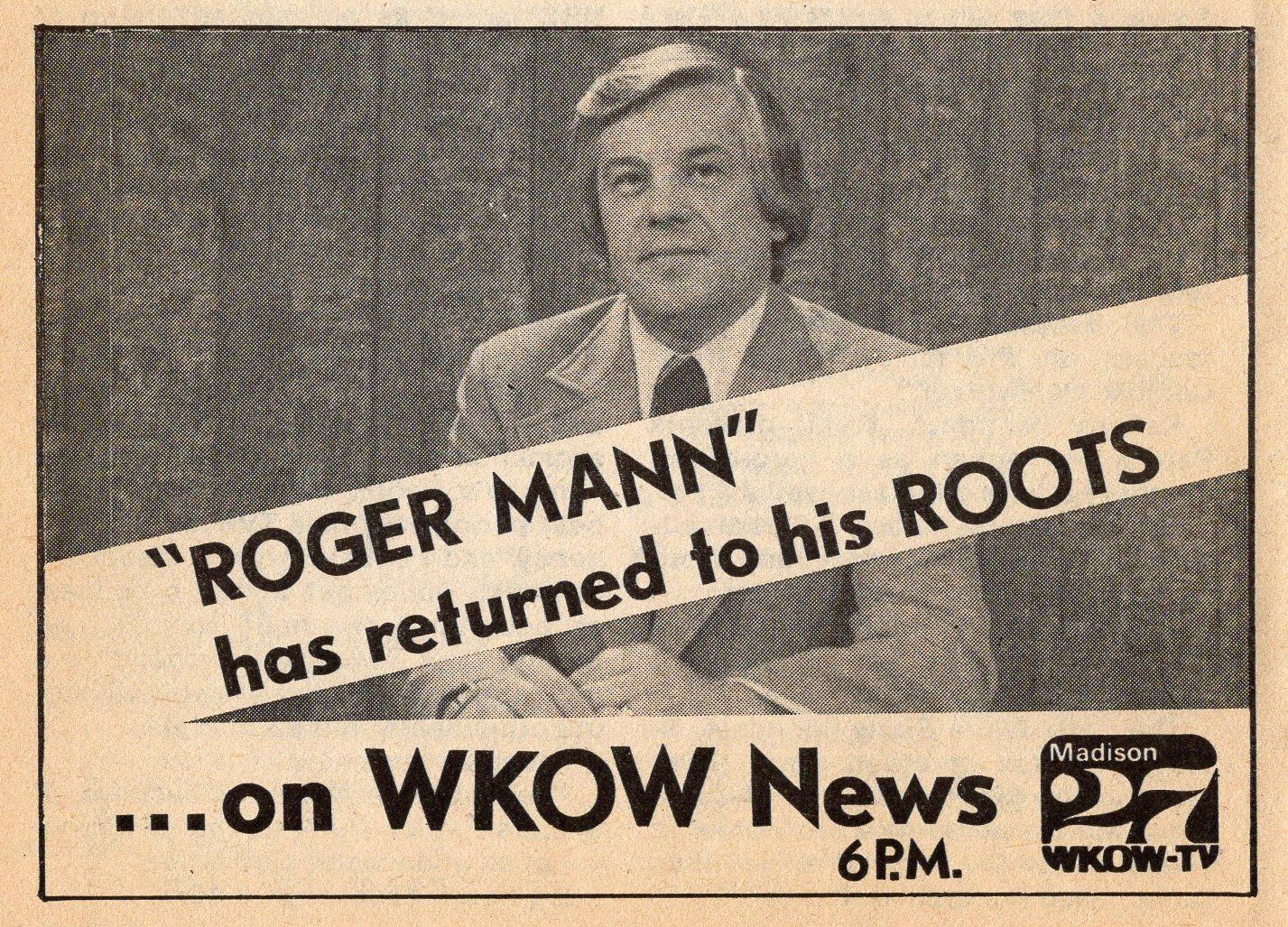 After and before Mann was John Lindgren, who went to WKOW from WISC when in-market moves were hardly ever done (and it's still rare in the Madison market).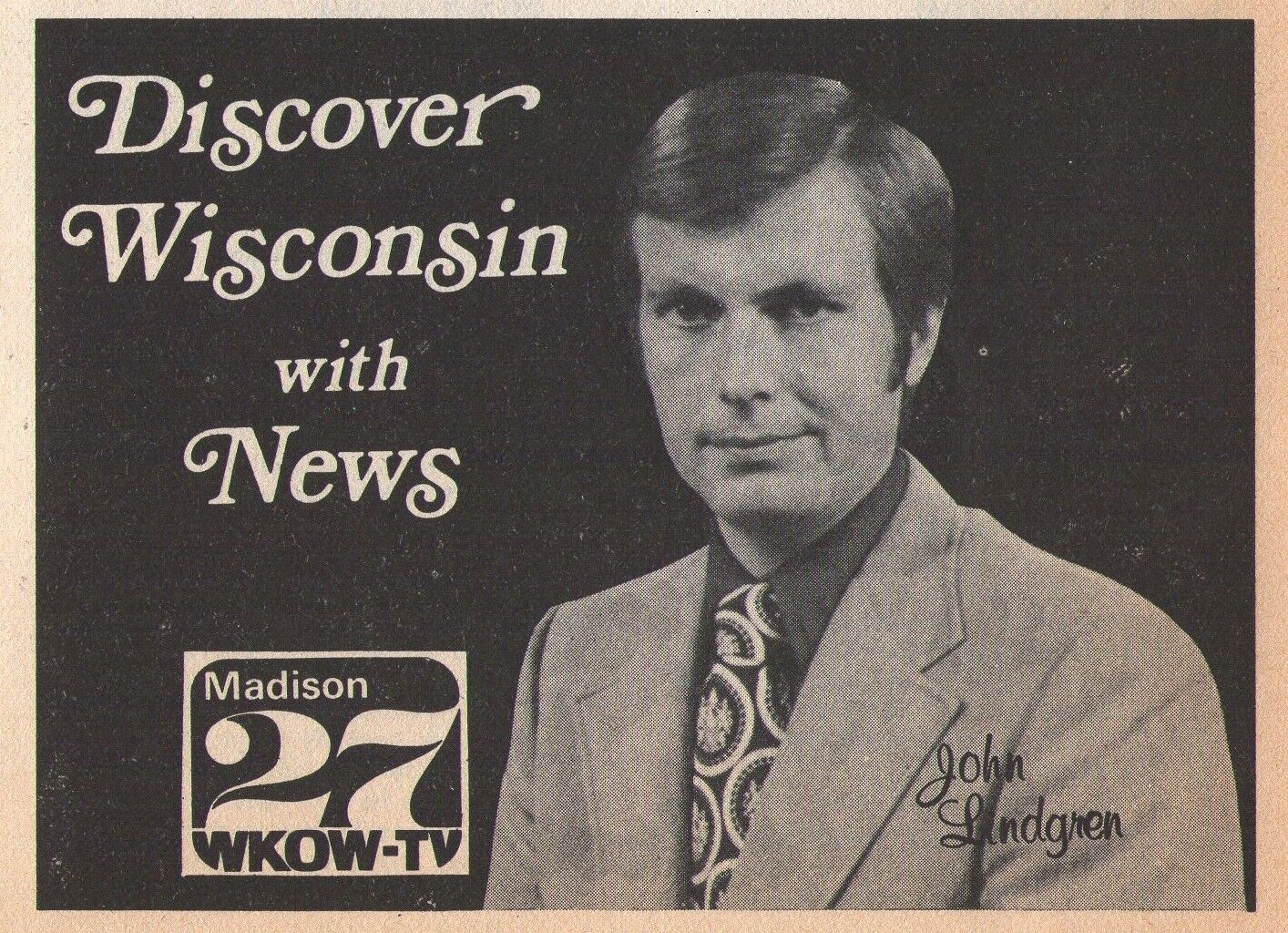 Lindgren then went to Kentucky and was on two TV stations there. Then he contracted colon cancer, but continued to work while fighting the disease, which ended up killing him at 55 in 2001.
The weather was done by …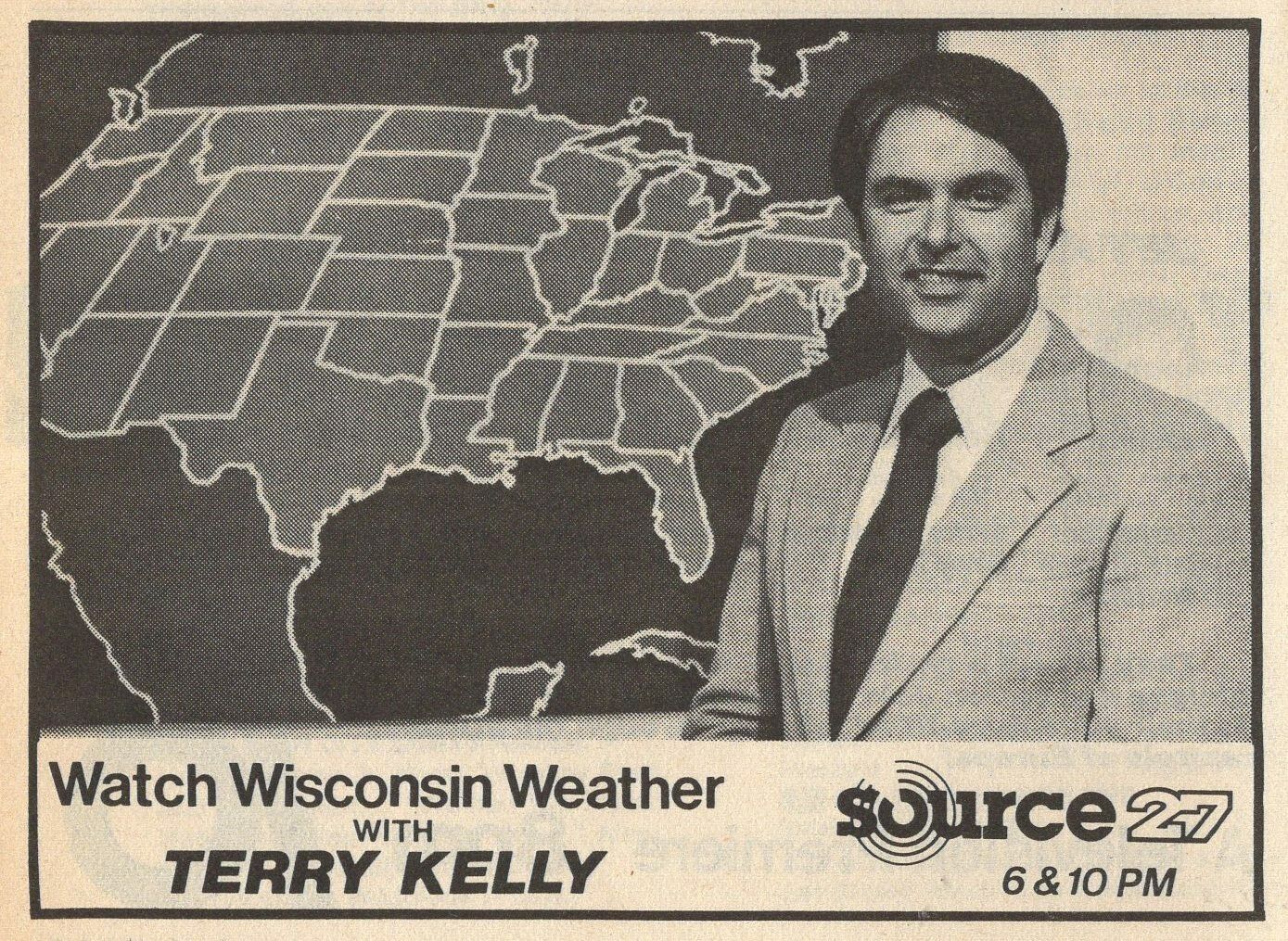 … Terry Kelly, who was the first in Madison to have the cool weather gadgets, most of them developed by his company, Weather Central. Kelly also was known for horrible puns just before going to commercial.
Kelly's predecessor was Tom Skilling, who worked at WKOW and WTSO while he was a student at UW–Madison. Skilling then spent three years at WITI-TV in Milwaukee, where he did forecasts with Albert the Alley Cat. Those were the days.
This next photo almost needs no introduction …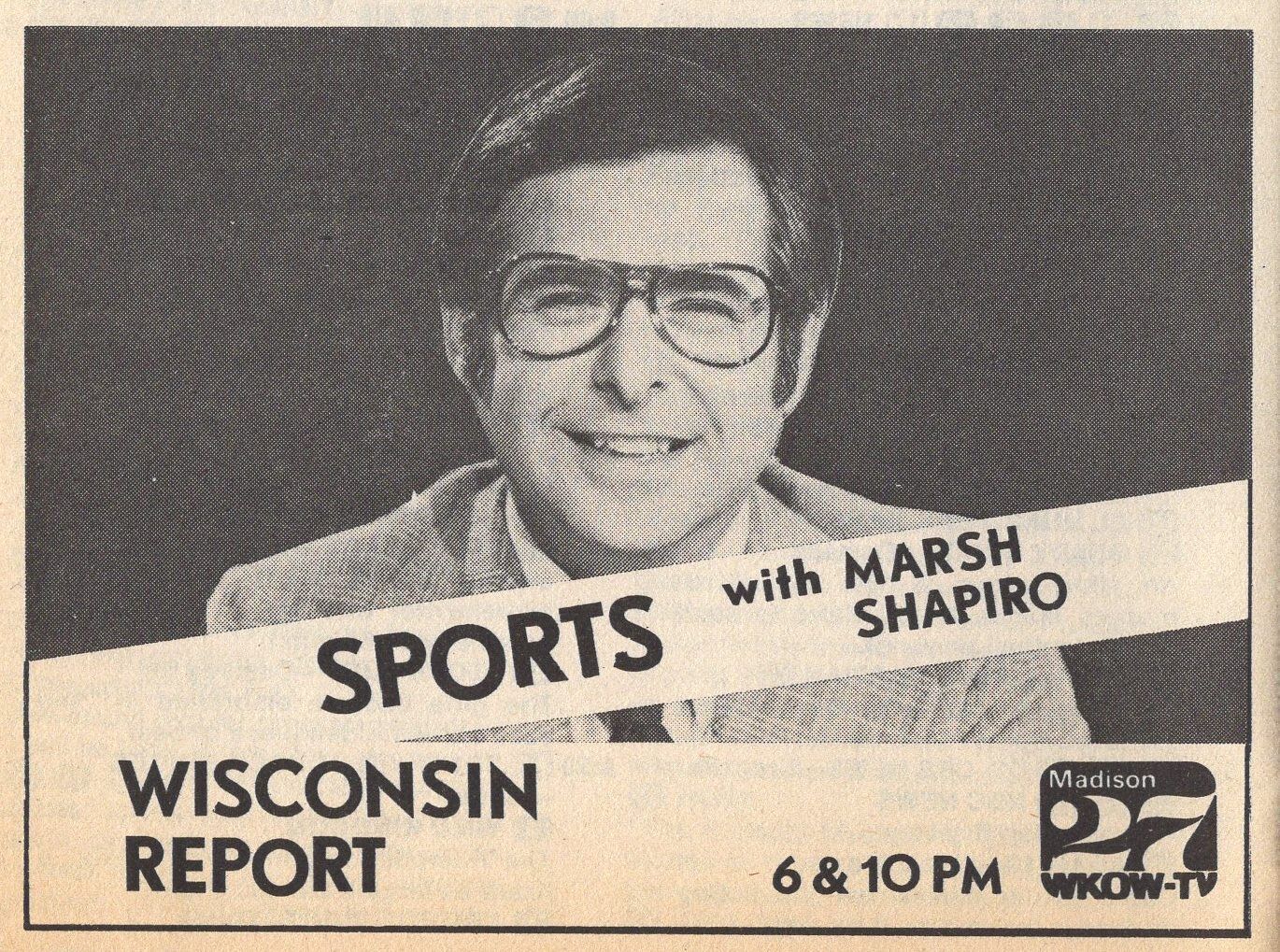 … Marsh Shapiro, sportscaster, and before that "Marshall the Marshal," and along with that owner of the Nitty Gritty bar, along with …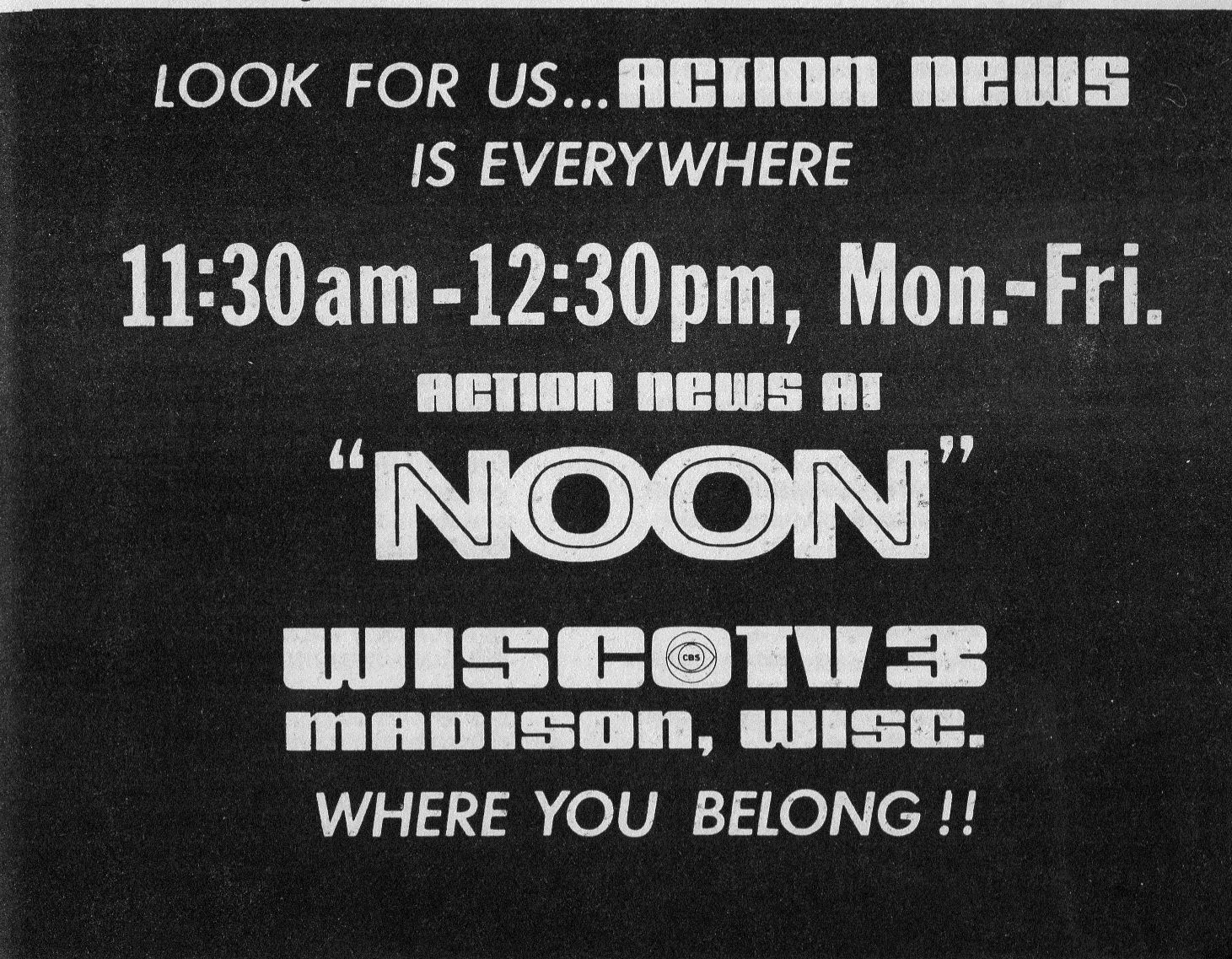 This apparently is also from 1977. WISC was the first station in the market to do news besides noon, 6 and 10. Before that WISC ran a one-hour "Eyewitness News" at 6 p.m. starting in 1971. (According to Digman it was because WISC was having license problems. Also according to Digman the news was a little thin at times.) "Eyewitness News" was replaced by "Action News," with a 5 p.m. newscast that became "Live at 5," which is still on.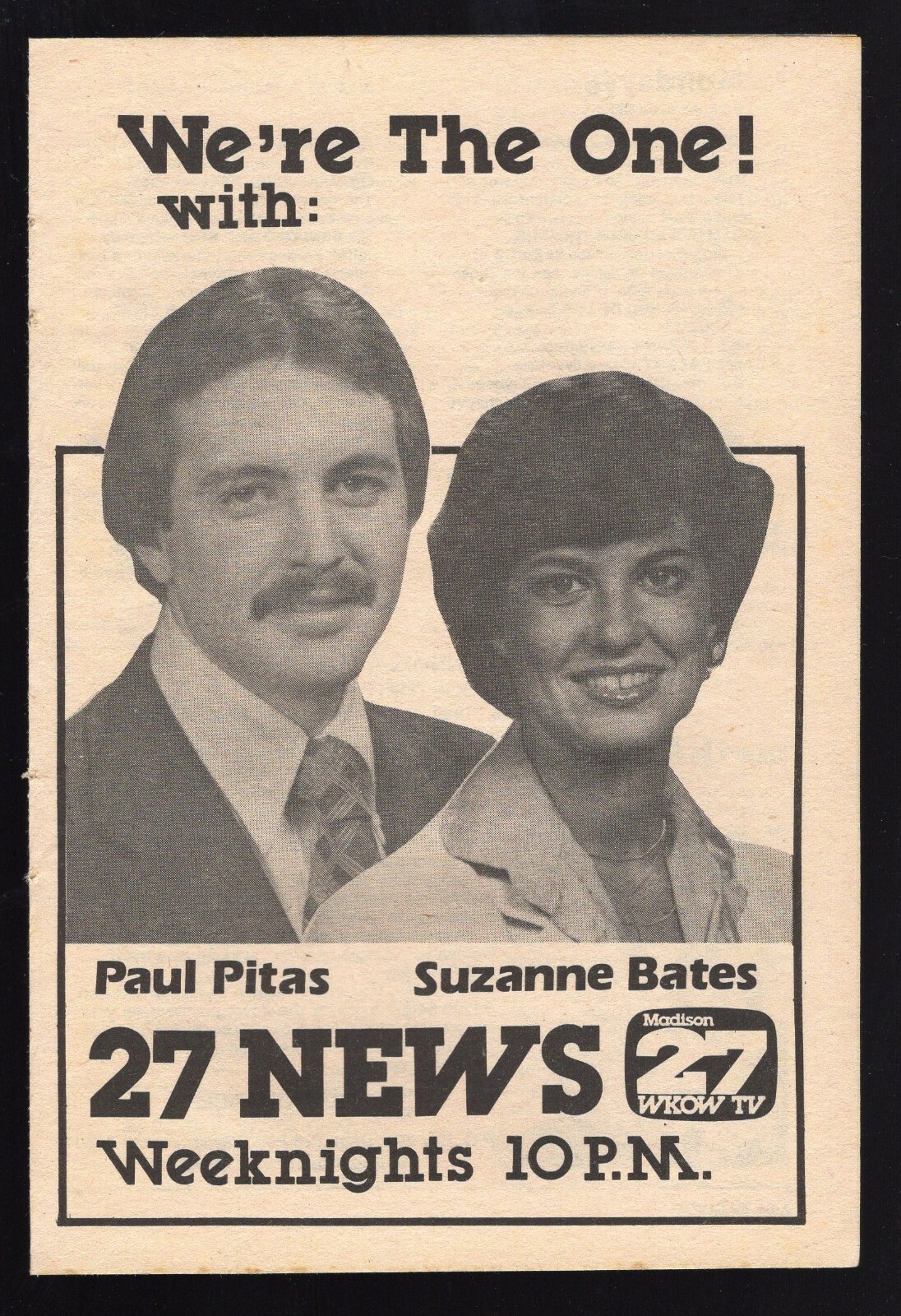 By 1980, Mann was gone, replaced by two people, Paul Pitas and Suzanne Bates. The last time I saw Pitas, he was doing public relations for Culver's, which is probably not a bad gig.
Finally, here is something you never see from radio or TV stations anymore: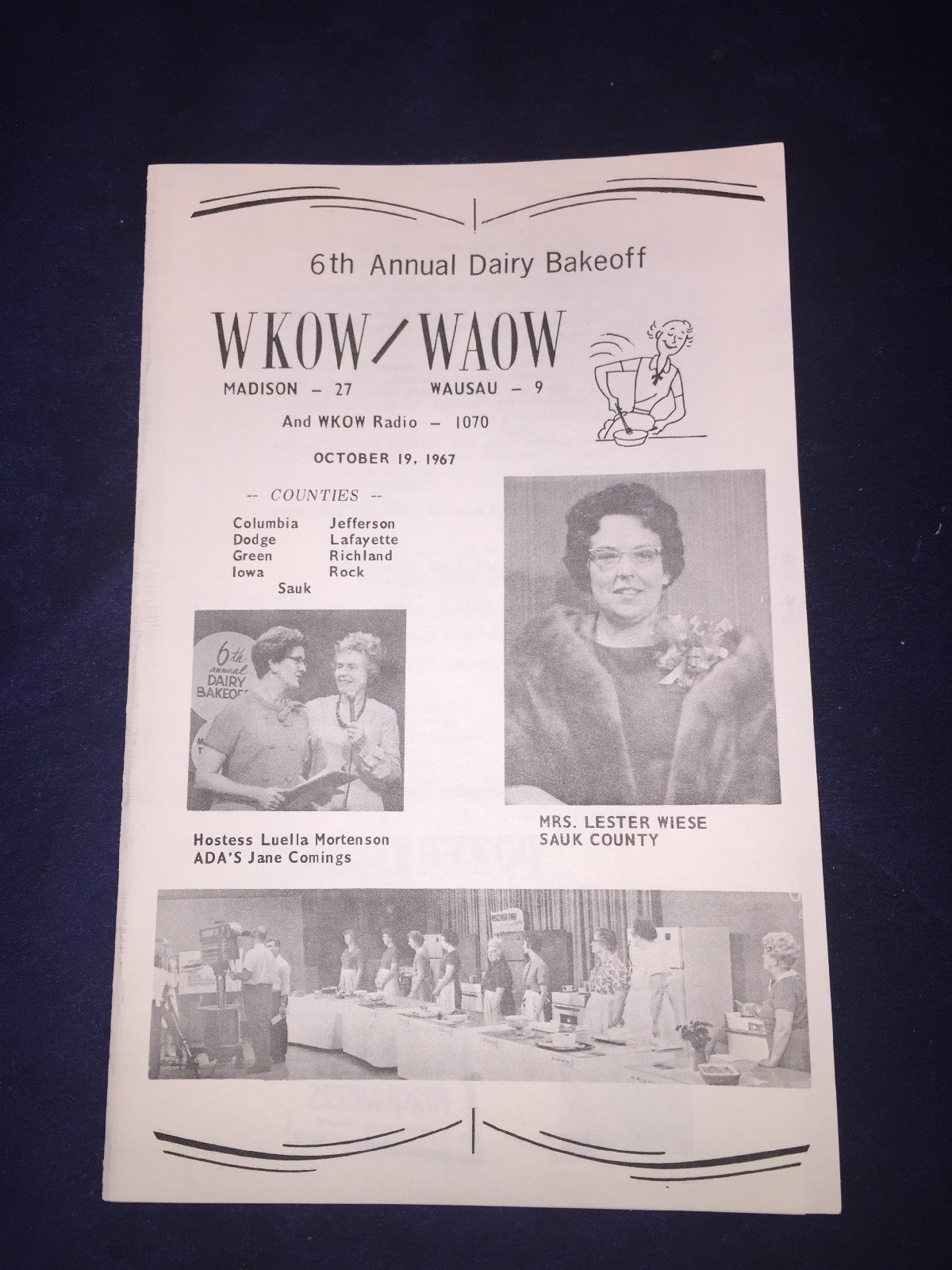 It's a radio- and TV-station-sponsored bake-off, which was cosponsored by a TV station that, I assume, didn't have a strong enough signal to get to any of the counties whose cooking women were eligible for the contest. (I wonder how Wausau viewers felt about that.) Click here for the recipes.