This weekend Chevrolet is bringing a 2020 Corvette to Road America in Elkhart Lake.
I'm not going. I have other plans. Although I've always enjoyed Road America since the first time I went there in the 1980s (where there are photos of me appearing to break into a Ferrari and I got one of the worst sunburns of my life), I prefer the July vintage event, during one of which I found this:
Chevrolet also released its dealer tour schedule. The C8 is going to make one appearance in Wisconsin, on Sept. 30. (Which, if you consult your 2019 calendar, is on a Monday.) It will make two in Illinois, and one in Iowa.
The color I would like …
… isn't offered, of course.
Readers know that I have been skeptical about this Corvette, largely because of its lack of manual transmission, which is a basic piece of any sports car. The rear/mid-engine placement of the engine is an application of technology from a company with historical difficulty in bringing new tech to the public that works as intended all the time.
It has been reported repeatedly that Zora Arkus-Duntov, stepfather of the Corvette (he didn't create the Corvette, Harley Earl did, but Duntov wrote a detailed letter to GM chronicling everything wrong with the first Corvette, and so GM hired him), thought the Corvette should be mid-engine. (Which the Corvette actually has been for several years. A mid-engine car has its engine either behind the front wheels or ahead of the back wheels. Duntov sought a rear/mid-engine instead of a front/mid-engine.)
Well, with all due respect to Duntov, and not being an automotive engineer myself, I wonder how many rear/mid-engine cars he actually used on a daily basis, or got a dealer to fix, or tried to fix without having actual automotive engineering skills. Those people, not car engineers, are the owners of Corvettes.
Ate Up With Motor describes the C2 and C3 conflict between styling and engineering:
The design of the Sting Ray had been the source of many clashes between Bill Mitchell and Zora Arkus-Duntov. Duntov was contemptuous of the car's nonfunctional styling gimmicks and poor aerodynamics; the C2 had low drag, but an alarming amount of high-speed lift. Duntov was only an engineer, however, while Mitchell was a vice president of one of GM's most powerful departments. Although Mitchell never enjoyed the almost unquestionable clout of his predecessor, who had had the patronage of GM chairman Alfred P. Sloan, GM's senior management was well aware that Mitchell's work was responsible for a great deal of GM's market domination. In a clash between Duntov and Mitchell, the victor was inevitable.

Duntov wanted the Corvette Sting Ray's replacement, which originally was slated to appear for the 1967 model year, to be smaller, leaner, and more aerodynamic, ideally with a rear- or mid-mounted engine. Mitchell, for his part, loved to make cars look aerodynamic, but he wasn't terribly concerned if they actually were or not.

Like Harley Earl before him, Mitchell was a believer in the formula of longer-lower-wider, and he felt sports cars should have long hoods. He was no fan of the rear-engine layout that Duntov wanted, which he thought would be ugly. Mitchell envisioned the third-generation Corvette more like the XP-755 show car, known as Mako Shark.

Contemporary automotive journalists sneered at the many gimmicks of the Mako Shark and its successor, the 1965 Mako Shark II, both of which were the work of stylist Larry Shinoda, designer of the Sting Ray. Duntov didn't care much for it either, but public reaction was favorable and in short order, the Mako Shark was approved as the basis of the third-generation C3 Corvette.

As for Duntov's desired mechanical changes, GM senior management had no stomach for an expensive revamp of the Sting Ray platform. With Corvette sales on the upswing, there seemed to be no reason to mess with success.
A repair guy figured out a problem about the engine's location:
Automobile Magazine opines the C8's worst and best  features:
Worst Things About the C8 Corvette

That silly line of buttons down the center console. In person, it's not nearly as awkward or intrusive as we thought from the photos—it actually looks kind of slick. That is, until you look more closely at the plasticky, cheap-looking buttons that fill it: They're straight from the corporate parts bin. We understand why, but we can't say we like it.

No manual transmission option. Yes, we know hardly anyone would buy a manual version. Ain't care.

The rear end in general. We're no purists (no specific number of taillamps, or their shape, is essential, for example) but we know a hot mess when we see it. Our design editor feels the same way.

The forthcoming bench racing.The Corvette's price-to-performance ratio is going to spawn a whole generation's worth of "just get a Corvette instead of X" posts on every forum we read, and likewise letters to the Automobile editors.

The wait. We still have months and months before we drive it, and before it goes on sale.

Best Things About the C8 Corvette

It's less than $60,000! That's Supra money for what is likely to be McLaren 570S-like performance. Even if "less than" means "$59,999" and comes before destination charges, it's still something special.

Zero to 60 mph takes less than three seconds with the Z51 package and performance exhaust.That's the best kind of crazy. Did we mention the price for this level of performance?

The engine and transaxle are super, super low in the car. This will certainly aid in handling.

The fit and finish. While the cars at the unveil we attended were hand-built prototypes, the interior materials' quality and fit and finish are definitely intended to answer 30 or more years of criticism of the Corvette's cabin. It's a shockingly nice place to be—as long as you don't look too closely at those buttons. Also, it's available with brown paint.

The small, square steering wheel looks like it will be a joy to use. Plus, it leaves enough room for drivers more than six feet tall and of a certain leg diameter to move around as we attempt to tame Chevy's mid-engine beast.
I'm not sure I agree with at least three of those five points, two of which are contradictory. The chance someone will drive off with a C8 for less than $60,000 is zero, merely due to GM's destination and other charges and dealer markups, which will be substantial. That doesn't include one single option — such as the Z51 option, without which there is no claimed 0–60 time, which itself is a Chevy claim unproven by anyone not employed by GM. So you can have a sub-$60,000 Corvette (except you can't), or you can go 0–60 in 2.8 seconds (though that remains to be seen), but not both.
As for the steering wheels worked better in a non-round shape, all cars would have non-round steering wheels. The bottom of the steering wheel was squared off on C6s and C7s, and though I don't like the look, that might be said to have a function. (Except that I have driven legs-only with round steering wheels for years without mishap.)
About the C8's looks, Robert Cumberford writes:
I was working hard in 1955 on a C2 planned for 1958, but its advanced rear-transaxle chassis finally achieved production only with the 1997 C5. That layout did reach production in 1977—outside General Motors—with the Porsche 928, created in part by Anatole Lapine, who'd worked with me on the stillborn '50s C2. I know little about behind-the-scenes projects that might have occurred during the 40 years between my departure from GM in 1957 and the arrival of the C5 but I suspect that there were a lot of exciting and highly feasible—but not fundable—projects. I do know that Zora Arkus-Duntov advocated for mid-engine Corvettes at least 60 years ago, and that he built a mid-engine CERV research single-seater in the Fifties with its small block V-8 behind the driver. So this car has come to market extremely late.

Some 1970s mid-engine GM concept cars were built to show off the Wankel rotary engines GM might have built, but they were not specifically Corvette prototypes in name. Which is too bad, because they were better-looking than this actual C8. I am deeply sorry to be severely disappointed by the styling of the C8. I hoped for something really new and exciting, not a boringly generic supercar, mostly indistinguishable from the many and varied unimaginative devices that show up regularly at the Geneva auto show. Its styling is confused—and downright messy in fact. I count a dozen horizontal lines, not to mention four convoluted taillights; four nice rectangular exhaust tips; plus varied slots, vents, grilles, indented surfaces, and wing elements . . . just across the rear fascia. The front is no better, and the profile with its short, stumpy nose is equally surprising. Maybe it's all meant to look purposeful, but to me it seems just a careless, cluttered graphic composition, not worthy of Corvette history and what we expect of this technically brilliant descendant of the Jaguar-inspired elegant original C1 from 1953.

I have no doubt that this will be a very good car, with truly world class performance coupled with American-style daily usefulness and (perhaps) easy servicing—dry-sump engines are not typical dealer shop fare. But I'd have liked to see some traces of the Astrovette or the four-rotor mid-engine concept from the Bill Mitchell era.
That would be one of these: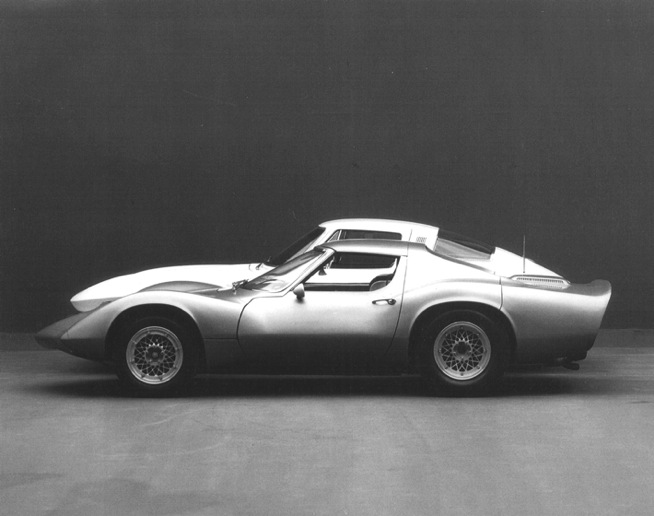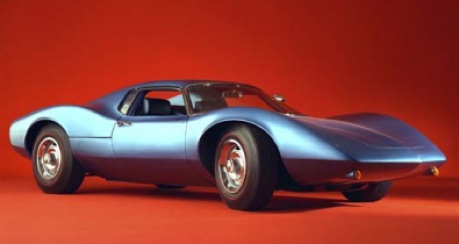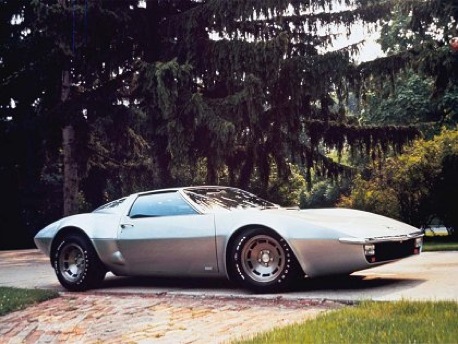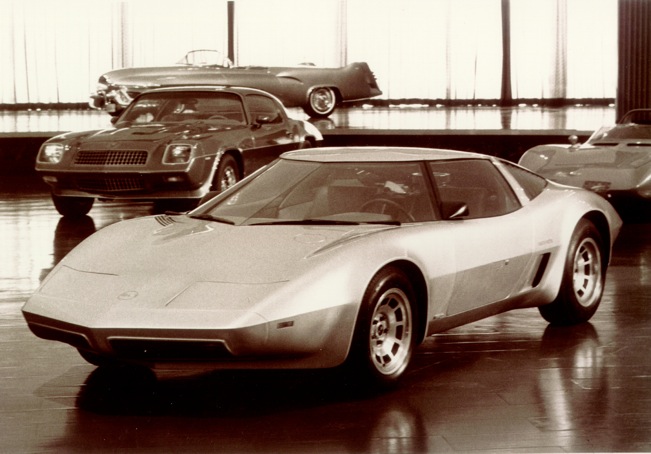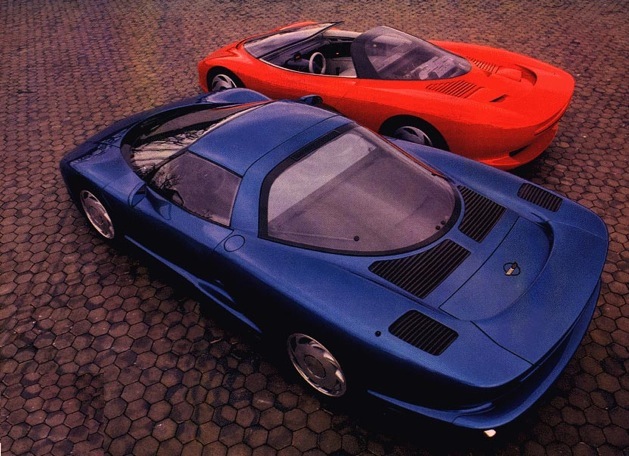 Compare and contrast previous Corvettes to the C8 in this magnificent illustration by Paco Ibarra:
The problem with nearly every rear/mid-engine car I have ever seen is there is usually more car behind the B-pillar (behind the door) than in front of the A-pillar (ahead of the door), which makes it look imbalanced in the wrong direction. As it is, nothing about this C8 screams Corvette to me; it looks like a teenage kid's dream of a midengine car that could be made by anybody.
Another point made elsewhere is that GM is coming out with an exotic car supposed to make people forget about Ferraris and Porsches and Lamborghinis (oh my!), and yet it has the same engine the C7 has — a naturally aspirated overhead two-valve V-8. It is a very good overhead-valve V-8, and it wouldn't stop me from buying a Corvette, but it seems illogical to feel the need to make it mid-engine with an exotic dual-clutch transmission without, say, a four-valve overhead-cam V-8 similar to the "King of the Road" C4. Anyone snobbish enough to turn up his nose over a front-engine Corvette isn't going to be more convinced by a mid-20th century engine design that lacks the exotica of whatever Ferrari is sticking under its hoods now. (Or an exotic transmission installed in part because of the laziness or inabiliity of potential buyers to shift and use a clutch.)
You might say that the C7 engine is terrific, and it is. You might also point out my previous point about unproven GM tech. But the supposed point here is to make the Corvette appeal to those who wouldn't buy Corvettes previously because they're not supercarish enough (independent of the most important consideration, performance vs. price), and on that important point it fails because it's not a Chevrolet, not a Corvette, and not a car with a 21st-century engine made of unobtainium. And in the process, GM alienated all the Corvette fans who wanted a better iteration of the previous formula (front-mid-engine, rear-drive, available manual transmission) that is one of the few profitable cars GM makes.
The worst thing about the C8 actually has nothing to do with the car, and has everything to do with people's reactions to the car. One expects GM to shift the hype machine into overdrive. But one would hope adults would be at least somewhat resistant to the hype machine, particularly journalists. The aforementioned writing is all I could find from the auto enthusiast publications remotely critical of the C8.
In 1968 Car & Driver tested the first C3 Corvette and pronounced it undrivable because it was put together so poorly. Even after GM figured out how to put it together correctly, auto magazines pointed out correctly that the C3 was simultaneously a bigger car with less passenger and luggage space. Road & Track was particularly critical about the Corvette for decades, perhaps concluding it should have been more like a Jaguar E-Type (while ignoring British cars' hideous quality reputations). Dissing the home team product wasn't necessarily easy to do given GM's advertising dollars. Now apparently they're all sellouts.
The bigger issue, though, is that reaction to this new Corvette mirrors everything else in the sewer of our public discourse, on politics, sports teams, music preferences, what you watch (or don't) on TV including iterations of "Star Trek," food choices and everywhere else. We are supposed to believe, according to its uncritical fanboys, that the C8 is better than sex, chocolate chip cookies, sunny summer days and puppies, and how dare anyone express a contrary opinion.
I have read accusations that those who are not unalloyed fans of the C8 are Neanderthals stuck in the last century who can't afford to buy one anyway, because insulting someone for their different opinion is so effective in changing opinions. (Not.) Someone actually bothered to create a Corvette owner stereotype that skipped past the usual midlife crisis trope to specifically include not gold chains and bad combovers, but jean shorts and white New Balance shoes.
Certainly, except possibly for the C2, every generation has been controversial for those who believe no Corvette but their favorite is really a Corvette. The C3 was way out there in appearance compared with the C2. The C4 had two horrible-looking instrument panels and was hard to get into and out of. The C5 looked blah. The C6 dumped the hidden headlights. The C7 got rid of a bunch of gauges and looked like a rearward-stretched C6.
For at least the last three generations (plus the King of the Hill C4) the Corvette has, however, been the best performance bargain on the planet, regardless of whether front-engine and rear-drive is the apotheosis of vehicular technology. GM, which has proven less than competent at big technological risks, has taken another one by selling its halo car — which has made money for GM for decades, unlike most of its current cars — with technology GM hasn't used before and inadequately tested before it hits the market next year (there is no substitute for the real world) in a quest for buyers who don't own Corvettes because they lack, in their misguided opinions, panache.
GM's claim that they're almost sold out needs a reminder that GM has not sold a single C8 Corvette. Not one. (I am highly skeptical of all the online claims of people ordering them. I could state that I own one of every generation Corvette, and no one reading this could prove otherwise.) And until they're actually on the road, none of GM's claims about the Corvette have proof.
GM has traditionally been one of the poorer run megacorporations for decades. (The conditions that resulted in the GM bailout far predated the Great Recession.) So maybe I shouldn't suggest that GM could have kept building the C7, or updated it, while also selling the C8 as the Corvette Zora or something like that. The C7 makes money for GM. There is no guarantee the C8 will, and if it goes away, so will Corvette.