With Mike Leckrone's final UW Band concert(s) on Wisconsin Public Television Saturday at 7 p.m., we combine a UW–Madison College of Letters and Science interview and Madison.com photos plus several YouTube videos and occasionally snarky commentary by myself:
My approach to teaching has always been that is it has to be fun. But at the same time, I have a reputation for being demanding, because I try to get students to constantly elevate their own standards. My approach has always been, "You'll have a lot more fun if you get really good at what you're doing."

1971. Note the nearly empty upper deck.

So now I know the black band W debuted in 1972. This was also the year I saw my first UW football game. (Badgers 31, Syracuse 7.)

1975. Michigan 23, Wisconsin 6, which counted as a moral victory for UW in those days.

Music is one of those disciplines where you only get better if you do the repetitions. Anybody who has played an instrument knows that it's the practice and the repetition that get the fingers working the way that they need to work. But we live in an era now where it looks so easy, and people forget the groundwork that has to be laid. We lose sight of that sometimes when we look at the finished product.

1976. Perhaps this should be called The Two Faces of Mike — official (in plaid polyester bell-bottoms) …

… and the version the 5,000 of us in the band over 50 years got to experience.

1978 Official Mike …

… and again our own special version. I believe this was the first or second year I went to a UW Band concert.

Madison.com claims this is 1985, but it is 1983 or earlier because in 1984 the black band W was replaced by the white band W.

I had an arranging professor many, many years ago who said you have to get the paper dirty. And what he meant was, if you're writing an arrangement, the first thing you do is put something down on paper. And then analyze.

1981. Why is Mike happy? Look at the scoreboard. It was the first time in maybe ever that UW beat Michigan (then ranked #1, but not after they left Madison), Purdue and Ohio State, making it look like the Badgers might go to the Rose Bowl. Sadly, Iowa got in the way.

1991. Not-very-impressive pointed toes. On the other hand, he was my age now, and at the band concerts my marching style wasn't very impressive either.
We interrupt this photo essay to bring you …
1994, after UW's first Rose Bowl win, before the Ohio State road trip.

Late 1996, before the 1997 Outback Bowl in Tampa.

If you study things like the notebooks of Beethoven, you see how many versions he had of the Fifth Symphony or the Ninth Symphony that never came to light. And I've been listening to some Elvis radio, for the outtakes, the things he didn't use and how many he would do until he got that feeling that was right. I think with any artist you'd find those trials and errors.

1998. The Badgers lost this week to Michigan, but, reversing 1993, Ohio State beat Michigan the next week to open the path for UW's return to Pasadena by beating Penn State.

Disneyland in December 1998 before the 1999 Rose Bowl, when Wisconsin beat UCLA again.
Sorry to interrupt again, but …
1999. After going to the Rose Bowl one season earlier, the only way UW could go back to the Rose Bowl was by winning the Big Ten title outright. So they did. About time the football team was as good as the band.
One of the things that I talk about constantly with students is that your worst enemy is complacency. I get my own motivation partly from trying to motivate students. When I see that they will respond to the demands that are made on them, that more or less increases what I want to demand from them. So it becomes a circle.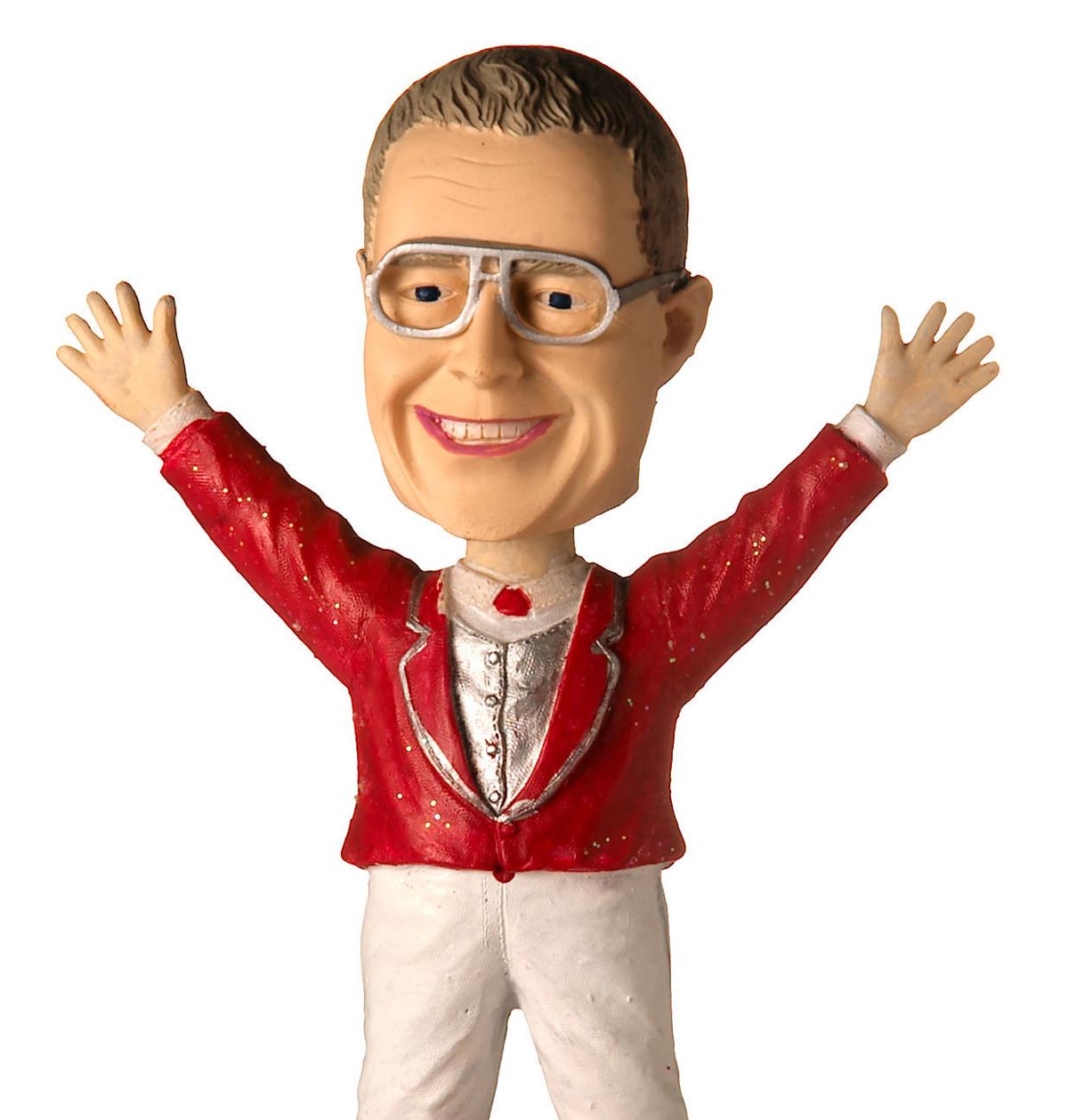 … before he gets his own cow, "Mookal Leckrone," in 2006.

2007 tryouts. Some people have to learn that Stop at the Top and toe-pointing thing, but I was a freshman once too.

That season resulted in another trip to Tampa for the Outback Bowl. UW went to the Outback Bowl so often that you'd think Barry Alvarez had a condo there.

I talk a lot about the moments that you pull upon when other moments don't go well. I like to call them moments of happiness. To be successful, you can't dwell on the non-successes, on the frustrations and the bad things that are inevitably going to happen. I think if you can learn to set aside the bad and dwell on the good things, you're going to succeed. That may sound a little Pollyanna-ish, but I firmly believe it and that's basically the way I approach everything.

Mike with UW–Madison chancellor Biddy Martin before the 2011 Rose Bowl, the first of three consecutive Rose Bowl trips. It took Leckrone 24 years to get to a Rose Bowl, but then UW went to six in the next 19 years.
It's hard for me to process what's next because I've been so active my entire life. I don't want to sit and just meditate. I'm not planning an around-the-world trip. I'm not planning to go to Florida and play golf. But I like all kinds of music and I do miss the opportunity to just listen. I will probably do a lot more of that when I have the time.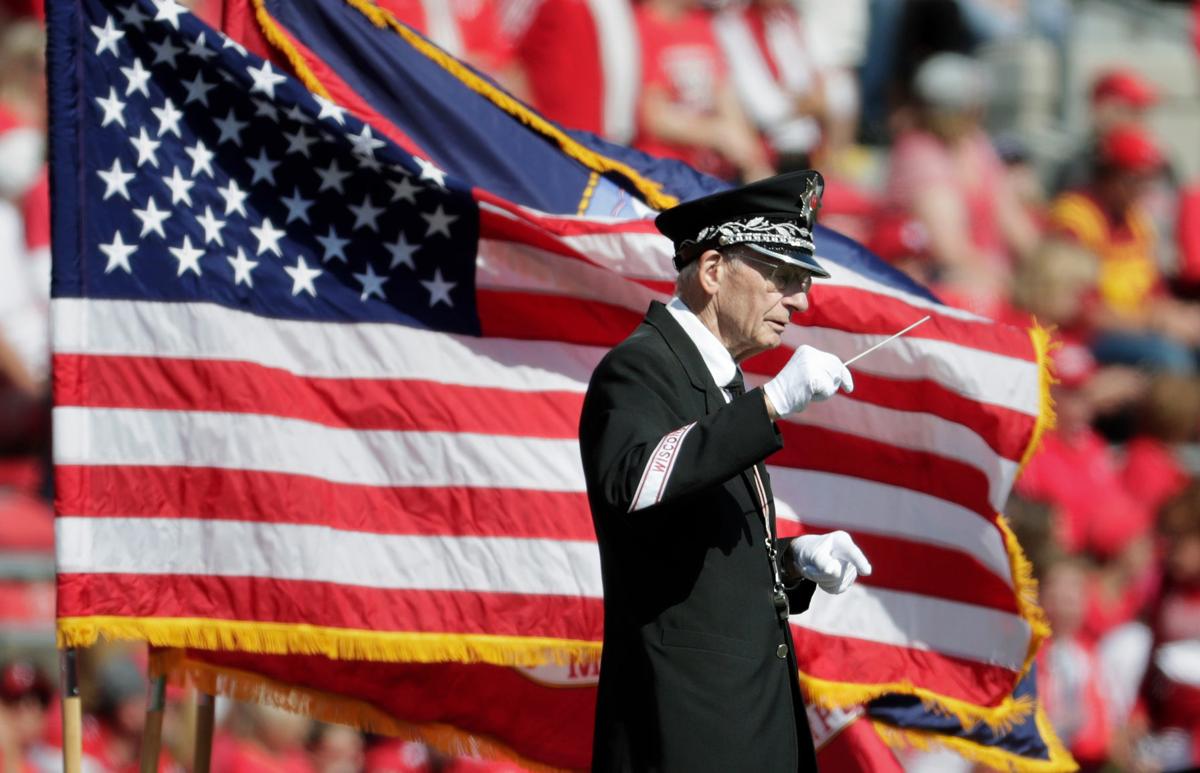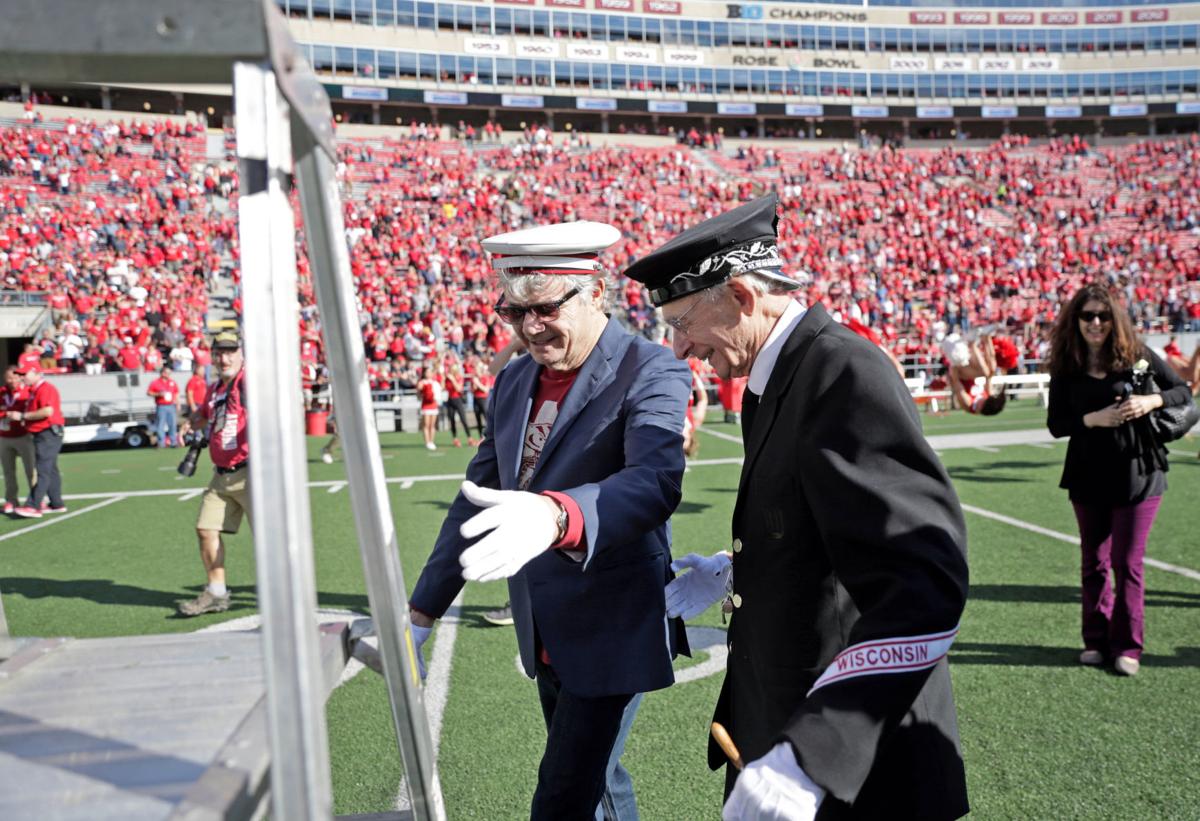 You have read here about Leckrone's phrase, "moments of happiness." In November he told the Wisconsin State Journal, "I realize what I do is not the most important thing in the world. I haven't contributed to any great discoveries. I've brought a few smiles to people's faces."
Is that not one of those "moments of happiness" for someone else, though? Imagine (if you weren't there) the ecstasy of the Fifth Quarter in Pasadena in 1994, or the basketball regional final win over Arizona to go to the Final Four in 2014, or beating undefeated Kentucky in the 2015 Final Four, or any one of the six hockey national championships. (I was in Detroit in 1990.) And if you were in the band, you contributed to someone else's moments of happiness too.