Apparently this is Discovery Channel's Shark Week. (No, I'm not watching.)
Andy Bolig writes about different kinds of sharks:
It's easy to look at something and say whether or not you like it and why, but to create something from nothing that will have lasting, world-wide appeal is a gift given to a rare few. When speaking about Corvettes, there are several names that constantly rise to the surface as undoubtedly having that gift.

In the late-50s and early 60s, designing a car was laid squarely on the shoulders of those who wielded a pen and paper. Their thoughts and souls flowed upon the canvas, and without any assistance from computers or electronics, they fostered designs that inspired generations. Gentlemen such as Bill Mitchell and Larry Shinoda came together to bear prototypes that would lead Corvette for generations and capture the hearts and minds of enthusiasts to this day.

Two cars that exemplify this are the "Mako Sharks", a duo of forward-looking vehicles that used technologies of the day to inspire and captivate enthusiasts with their futuristic design and styling. The basis for these cars, of which they both were dutifully named, has its roots in Bill Mitchell's love for deep sea fishing, and the shark that he reportedly caught while on one such endeavor.

In The Beginning

Larry Shinoda reported in an interview on more than one occasion how Mr. Mitchell caught a shark and was so enthralled in the color and shape of the animal that he used it as the design basis for the cars. He wanted to create a car that had the same appearance of speed and agility, as well as the ability. Of course, no other platform provided such a solid starting point as Corvette.

In an interview with Wayne Ellwood, Corvette Designer Larry Shinoda once explained how the Mako Shark came about. The design work for the new-for-1963 Corvette was completed by 1962, and Chevrolet wanted something to help promote the new car. Larry was ordered to do some sketches that would build excitement for the new offering using cues from the new car, as well as taking some styling license with the design. After several designs, the final result was XP-755, the Mako Shark as we know it.

Even if anyone had seen the new 1963 Sting Ray Corvettes, they hadn't seen anything like the Mako Shark! It's pointy nose, flowing lines and a paint scheme that flowed from shark-skin blue to silver underneath were undeniable cues to the feared predator that shared its name.
Most Corvette fans acknowledge that the C2, inspired by the Mako Shark, was a better car than the C1. Corvette fans have been split on the C3, inspired by Mako Shark II, given that it was bigger outside but smaller inside than the C2 it replaced, and had rather useless storage space. (Not that the C2's was better, since it was not a hatchback either.)
I've never mentioned this before now, but I once owned a Mako Shark.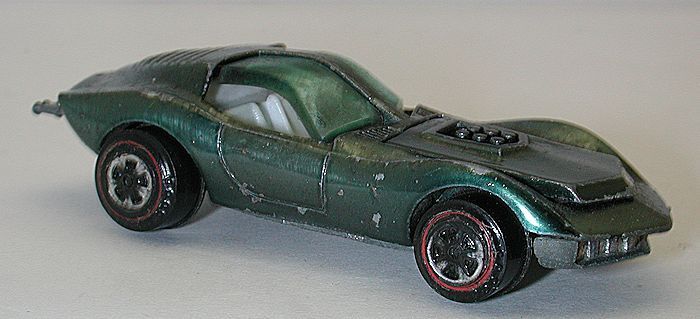 It went as fast as I could push it.