I've written before here about the most superior engine design, the V-8 engine.
Along that line, Hotcars has 20 potential V-8 car purchases for $10,000 or less, including …
Even though it seems like Americans have a monopoly on producing this epic piece of machinery, the rest of the world has an appreciation for it as well, using it only for their finest models.

However, it's not cheap to purchase something with eight thumping pistons under the hood. Even work trucks and base trim muscle cars can be rather pricey. For cheap V8 power, one must look at the used market. While a new vehicle with such a powerplant will likely start above $30k, it's fairly easy to find a used model with similar power at a third of the price. With that being said, it's worth remembering how much more it will cost to insure and fuel a vehicle with eight thirsty cylinders. Although, there's nothing else that moves a car quite like a V8, especially when such an experience can cost less than $10k.
20 

CHEVROLET CORVETTE C4

The formula for building a competent sports car is rather simple. Use a strong powerplant in combination with buttoned-down suspension and a lightweight design. One of the few American offerings that follows this philosophy is the Chevy Corvette. Its body doesn't weigh much thanks to the fiberglass panels, which pair well with its unique leaf spring suspension design. When put together, it makes for an excellent sports car. However, the most important part of a Corvette is its motor. Powered almost exclusively by Chevy small block V8s, the best Corvettes accelerate as well as they corner.

The model's strength heavily depends on which motor resides under the hood. The C4 Corvette launched in 1984 came equipped with only 205 limp horsepower. While that V8 was later revised to produce up to 245 horsepower, the LT1, the predecessor to the legendary LS, is the engine to seek out. This motor's 300 horsepower rating means this aging Corvette can still tear up the street. While the newer LT1 models will cost more, it's well worth the extra cash.
The C4 is not my favorite Corvette, in large part due to the ridiculous instrument panels …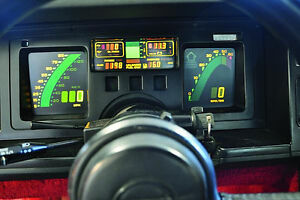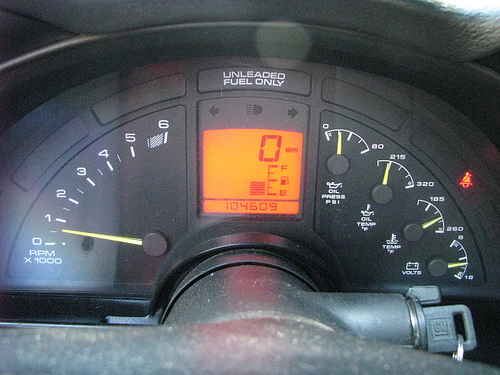 … but that can be fixed, for a price. (As with everything else.)
18 

FORD MUSTANG GT

What American muscle car is more iconic than the Ford Mustang? It has been in continuous production since it was introduced in 1965. As a result, there are many Mustangs that can be had for well under $10k. For those who want some classic V8 muscle, there are many original Mustangs that are surprisingly cheap, if a bit rough around the edges. And that kind of money can also buy a very clean Fox-Body Mustang with the iconic 5.0-liter V8. However, if a buyer is willing to purchase something that's a little less clean, they can opt for a cheaper Fox-body and use the left-over money to turn it into a track destroying monster thanks to the model's huge aftermarket selection. While newer SN95 Mustangs are definitely cheaper, they aren't as modifiable as the older Fox bodies or as attractive as the newer 2005 through 2009 cars.

It doesn't hurt that these models also have a wide selection of modifications available. While Coyote 5.0-liter 'Stangs are out of this price range, there's still a lot of fun to be had with older examples.

17 

CHEVROLET CAMARO
With the exception of the Ford Mustang, the longest running muscle car is the Camaro, having been produced uninterrupted from 1969 to 2002. The model did return once again in 2010, now sporting a retro look. However, these newer examples have yet to depreciate into affordable territory and, obviously, the classic models can get quite expensive. If there is anyone who still wants a Camaro that offers Corvette power, strong acceleration, and impressive handling for under $10k, then the fourth-generation model is a perfect choice.

This version entered production in 1993, but the one to look out for is the 1998 to 2002 model. Originally, this Camaro came with the C4 Corvette's LT1 V8, but the way the engine was crammed under the hood made it difficult to work on and it was not as powerful, nor as fuel efficient as the motor that came after. For 1998, Chevy decided to throw in its new LS1 V8 that was more powerful, being rated at 335 horsepower and being capable of achieving decent highway fuel economy with its efficient, computer-controlled motor in conjunction with its slippery body design. While the four-speed automatic is capable of delivering powerful acceleration, it's the six-speed manual that will really unlock this car's performance.

16 

DODGE RAM 1500

Out of the American Big Three, Ram tends to be the lowest volume seller when it comes to trucks. With Ford being the most established brand, Chevy providing a more traditional truck experience, and Toyota offering its usual undying, if outdated, experience that it's known for, Ram has a tough time competing. On the surface, the Ram's main appeal is its unique looks. Starting with its 1994 redesign, the Ram's styling shifted towards its now iconic semi-truck inspired look with low headlights and a tall crosshair grille. It was further refined in 2002, and, a year later, the model received Chrysler's new 5.7-liter Hemi V8. This new motor was good for 345 horsepower, which put the Ram's new optional V8 shockingly close to the other brands' performance trucks of the time. That powertrain combined with the truck's tough looks gave the Ram 1500 a very muscular presence, and Dodge saw an opportunity.

To capitalize on its redesigned truck's new powerplant, Dodge released a few special edition models, such as the Rumble Bee, Daytona, and GTX, all referencing classic Mopar muscle cars. As most of these were less desirable single cab models and are getting a little old, it's easy to find such Rams for under $10k.

15 

BMW 5 SERIES
If there's one thing that BMW is known for, it's for producing high-quality sports cars that are surprisingly practical. Despite the company generally building performance vehicles, it manages to keep its models' styling fairly subdued while retaining an instantly recognizable look. Perhaps the company's best combination of performance and practicality is the 5 series. For many years, it has provided owners with a driver-oriented experience with the practicality and comfort of a luxury sedan, with the M5 being the quickest option. Unfortunately, M-power is not within our budget, but there are still plenty of V8-powered 5 series available for under $10k, as long as the model is more than a decade old.

Although the 5 Series never came standard with eight cylinders, there were plenty of buyers willing to shell out the money for the extra oomph. Power was dependent on which V8 was equipped.

While any of these motors make for a quick sedan, it's still worth remembering that this is a premium German luxury sedan and that repairs may be quite expensive should they come up, but the experience may be worth it.I drove a 1994 540 once, with, as a bonus, a six-speed. It was fast, but smooth, but fast. I recall ripping down a suburban street at 73 mph in a 35-mph zone due to my not noticing how fast I was going.

14 

DODGE CHARGER R/T
I drove a Genesis once. I was surprised at how nice it was, and how much like the V-8 sedans U.S. automakers used to built it was.