UW athletic director Barry Alvarez talks about last week:
I got word at about mid-week that Florida Atlantic was looking to see if we could move or cancel Saturday's game because of understandable concerns with Hurricane Irma.

I told Chris McIntosh, our deputy athletic director, "Let's get a hold of their AD (Patrick Chun) and let them know if they got stuck here, we'd do whatever was necessary to accommodate them."

Some different contingencies were brought up and considered after games involving other Florida schools were canceled or postponed. But those options just weren't going to work out.

Instead, we said, "Come up and play the game at 11 a.m. on Saturday and if you can't get back, stay here. It may be the safest thing anyhow. We'll take care of you."

It wasn't finalized until Thursday. We were still worried whether they'd get out of Florida on Friday. I understand they may have been one of the last flights to leave before the airport closed.

Because they took a bigger plane out of Florida than they would have normally for the travel party, the coaches were able to bring their wives and children with them to Madison.

We connected all of our people with all of their people: our strength coaches with their strength coaches, our equipment people with their equipment people, our video people with their video people.

Our coaches' wives even hosted a tailgate for their coaches' wives.

After Saturday's game, their administrators were kind of playing it by ear — taking everything day by day — until they could determine when they could get back to Florida.

We had a lot of people step up to help them. Their players lifted in our weight room on Sunday and practiced in the stadium on Monday and Tuesday. So, they've tried to make the best out of the situation.
Here is the follow-up: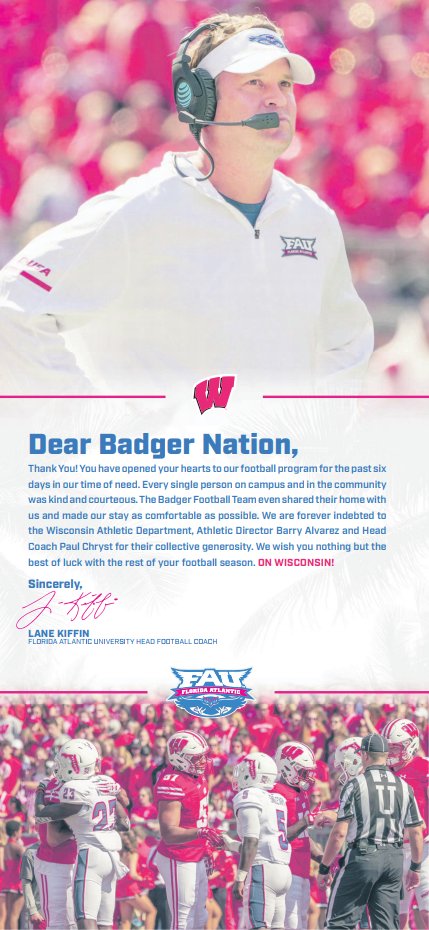 To the south, however, Brett McMurphy tweets about Alvarez's successor as football coach:
Since Jen Bielema tweeted #karma on this day in 2013 after Wisconsin's wild loss at Arizona State; Wisconsin is 41-12, Arkansas is 23-27
Evan Flood expands on that:
When they face BYU (1-2) on Saturday, No. 10 Wisconsin (2-0) will travel out West for the first time since 2013 against Arizona State.

In that game, the Badgers fell 32-30 in a wild finish that was later ruled an officiating error, resulting in the referees being suspended by the Pac-12.

Following the loss, Jen Bielema, the wife of former Wisconsin and current Arkansas head coach Bret Bielema, tweeted "#Karma."
Arkansas hasn't won more than eight games since Bielema's arrival in 2013.

Meanwhile, Wisconsin has won at least nine games every season since Bielema left, including three consecutive bowl victories and two 11-win campaigns.
And to think, as a friend of mine pointed out, that Bielema left Wisconsin because he thought he'd have a better chance at a national championship at Arkansas.
Meanwhile, FanSided reports about Bielema's successor:
With his Oregon State team not looking good in its two losses so far, head coach Gary Andersen is not too happy.

Oregon State is 1-2 this season, and the win was a narrow victory (35-32) over Portland State. In two losses to FBS opponents, the Beavers have been outscored 106-41 by Colorado State (58-27) and Minnesota (48-14). Things won't get any easier, with a road trip to take on No. 21 Washington State on Saturday followed by games against Washington and USC.

Andersen made a radio appearance with John Canzano of The Oregonian on Thursday, mostly to preview the Washington State game. He also acknowledged the frustration he hears from fans.

"There's nobody more frustrated than I am…I'll do my best to keep banging there and keep fighting. I'll always have my kids' backs."In two-plus seasons at Oregon State, Anderson has a 7-20 record. Things improved a little last year, with a 4-8 record and a win over chief rival Oregon after a 2-10 debut season in 2015. But there's still a rebuilding job to be done in Corvallis, and last year's three conference wins will be tough to repeat.After an 11-2 campaign and a top-20 finish in both polls at Utah State in 2012, Andersen moved on to take the head coaching job at Wisconsin. The Badgers won 19 games in his two seasons there, and Big Ten West division title in 2014. But reported frustration with the academic standards at the school, and family considerations, led to Andersen leaving for Oregon State before the bowl game to end his second season.In leaving Wisconsin, with good (family) or flimsy (academic standards) reasoning, Andersen went from coaching a perennial Big Ten contender to coaching a low-tier Pac-12 team. Andersen also pointed to the difficulty of the situation he finds himself in.

"This team has had some tough times come its way, "I'm not going to be a guy who is going to yell and scream, whine and cry. … We come back on Monday and we learn on Monday from the good and the bad, win or lose."

Andersen signed a contract extension through 2021 during the offseason, so he's got some measure of job security. But another season with less than five wins is surely coming, and unless his buyout is excessive Andersen could still be relieved of his duties. Expectations can't be incredibly high for the football program at Oregon State, but barely beating an FCS program is not a sign of progress so far this year.

Andersen did not come off as a proverbial "Wisconsin guy" when he was the coach there. But there's something to be said for winning at least nine or 10 games every year, and based in part on high academic standards for his players Andersen bailed on a very good situation. What's that they say about being careful what you wish for?
Andersen did not disgrace himself and nearly torpedo the entire UW Athletic Department, like Don Mor(t)on, the poster boy for bad coaching hires, did, but Wisconsin really dodged a bullet when Andersen decided to leave. One good thing that can be said is that Andersen brought along defensive coordinator Dave Armada, whose work made up for an unimpressive offense.
Wisconsin goes to Brigham Young for only their third meeting Saturday. (I saw the first, when a punky QB later to be known as McMahon carved up the Badger defense.) Chryst is 8–1 on the road in his Badger career, and BYU is not the same dominant football team it used to be.
There is a concern about the game, however, as reported by SBNation:
One of the best parts of the early college football season is the high number of cross-country, out-of-conference games, pitting wildly different fan bases together. Just this week, UCLA fans get to visit Memphis, Ole Miss and Cal fans will hang out in Berkeley, and Kansas State fans get introduced to Nashville.

One of the funniest mixes? Wisconsin is headed to Provo, Utah, to take on BYU.

Sure, this game is compelling for football reasons. BYU, despite its anemic offense, has an excellent defense and will be Wisconsin's toughest test before Big Ten play. LaVell Edwards Stadium is gorgeous, both programs have a ton of history, and anybody watching will see cool uniforms and lots of hard hitting.

But there's something else we should be watching here.

Wisconsin fans like to drink. BYU is a Mormon school.

Look, I'm not saying this as a pejorative or anything. But bars outnumber grocery stores in Wisconsin almost three to one for a reason.

Provo, home of Brigham Young University, does not enjoy adult beverages quite as much. Over 90 percent of Provo's population is made up of members of the Church of Jesus Christ of Latter-Day Saints (the Mormons), and Mormons don't drink.

If most of your city doesn't drink alcohol, you're probably not going to build too many bars, right?

So I looked into where Wisconsin fans might drink, and it appears Provo has two bars.

Before I get Well Actually'd about this, this doesn't include places like Chili's, where you can get a beer, or liquor stores, grocery stores, private clubs, or bars at hotels. And there are bars in nearby cities, like American Fork or Orem. I'm just talking about bars with Provo addresses. And that leaves us with City Limits and ABG's Libation Emporium.

They're not worried about running out of alcohol, but that seems like a challenge to me.

I called up ABG to see if it was making special preparations ahead of the Wisconsin game, and I was told that the bar hadn't even thought about it yet.

"Look, if it's on TV, it's on TV, but we're not going to put on a specific game, because then the college kids come in here and drink waters and don't buy anything," I was told.

But ABG's representative isn't worried about actually running out of alcohol.

"We have 53 flavors of beer and probably the largest liquor selection in the [Utah] Valley," the rep said.

Multiple attempts to reach the other bar, City Limits, were not successful. Maybe it was just too busy serving Wisconsin fans?

I don't know how many Wisconsin fans will make the 2,000-mile trip to Provo. I imagine many will bring their own supplies or pick some up along the way.

But the idea of a fan base actually drinking the whole town's bars dry is funny.

If Washington State fans were able to drink all the booze in a bar at Auburn (and again on a flight to UNLV), then Wisconsin fans ought to be able to clean out Provo's bars.

I don't want to encourage any risky or unsafe behavior. But there are only two bars here, Wisconsin fans. This is within your power. Especially if BYU pulls the upset.
I've been to Provo. I've also been to Salt Lake City on New Year's Eve, the only time I ever went anywhere on New Year's Eve where I had no concern anyone was going to spill beer on me. The best way to describe the people of Utah is the phrase "pathologically polite."
I played at Wisconsin's first game in Las Vegas (which will never be confused for any community in Utah) in 1986. Legend had it that Badger fans drank the entire supply of brandy in Vegas. So the bar owners might be whistling in the dark.