The Packers ended their two-postseason-game losing streak to the New York Giants yesterday, 38–13, by playing one great half and three plays:
The New York media is unparalleled in objective, impartial, dispassionate analysis of the home team's season's conclusion, as shown by front and sports pages: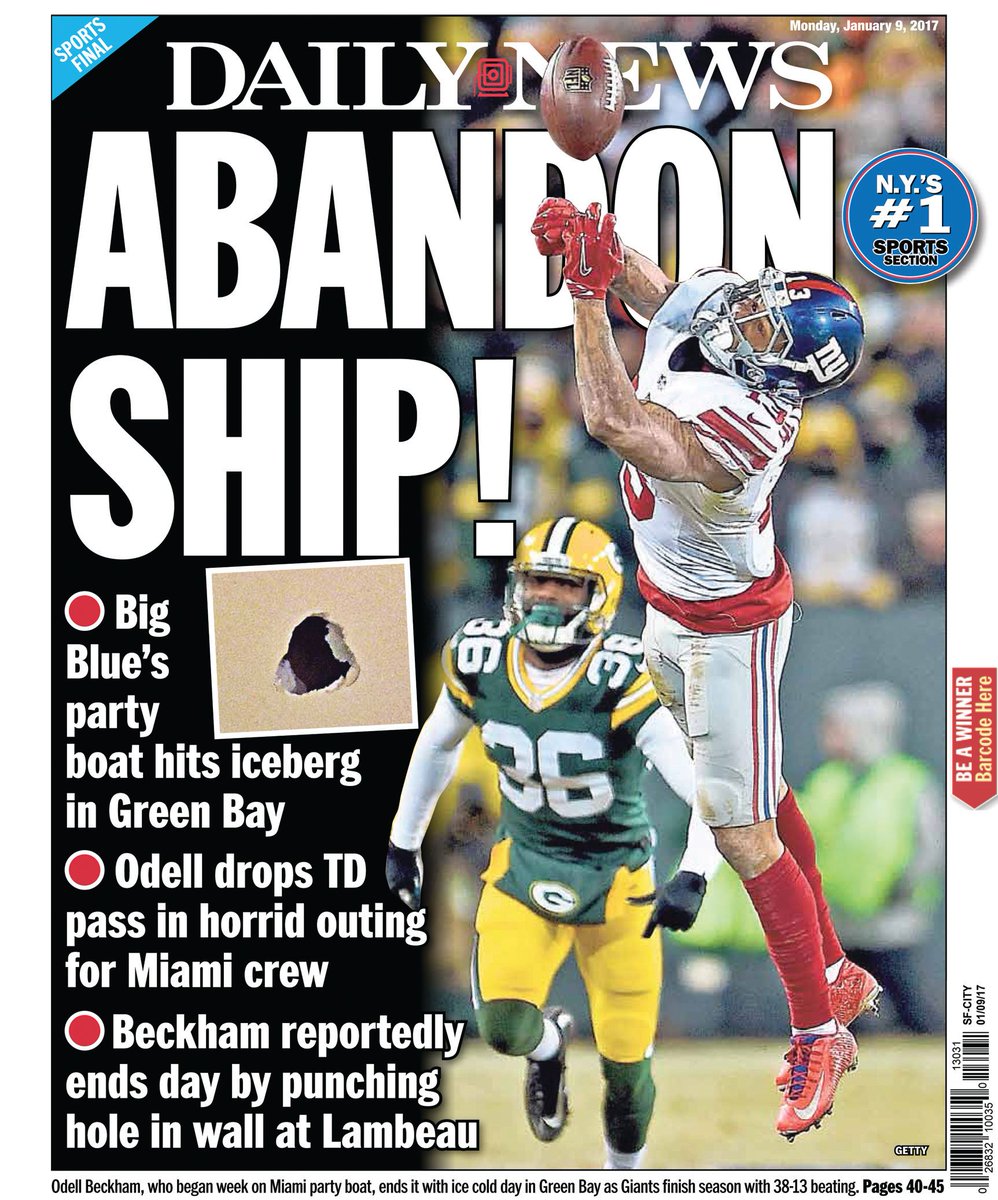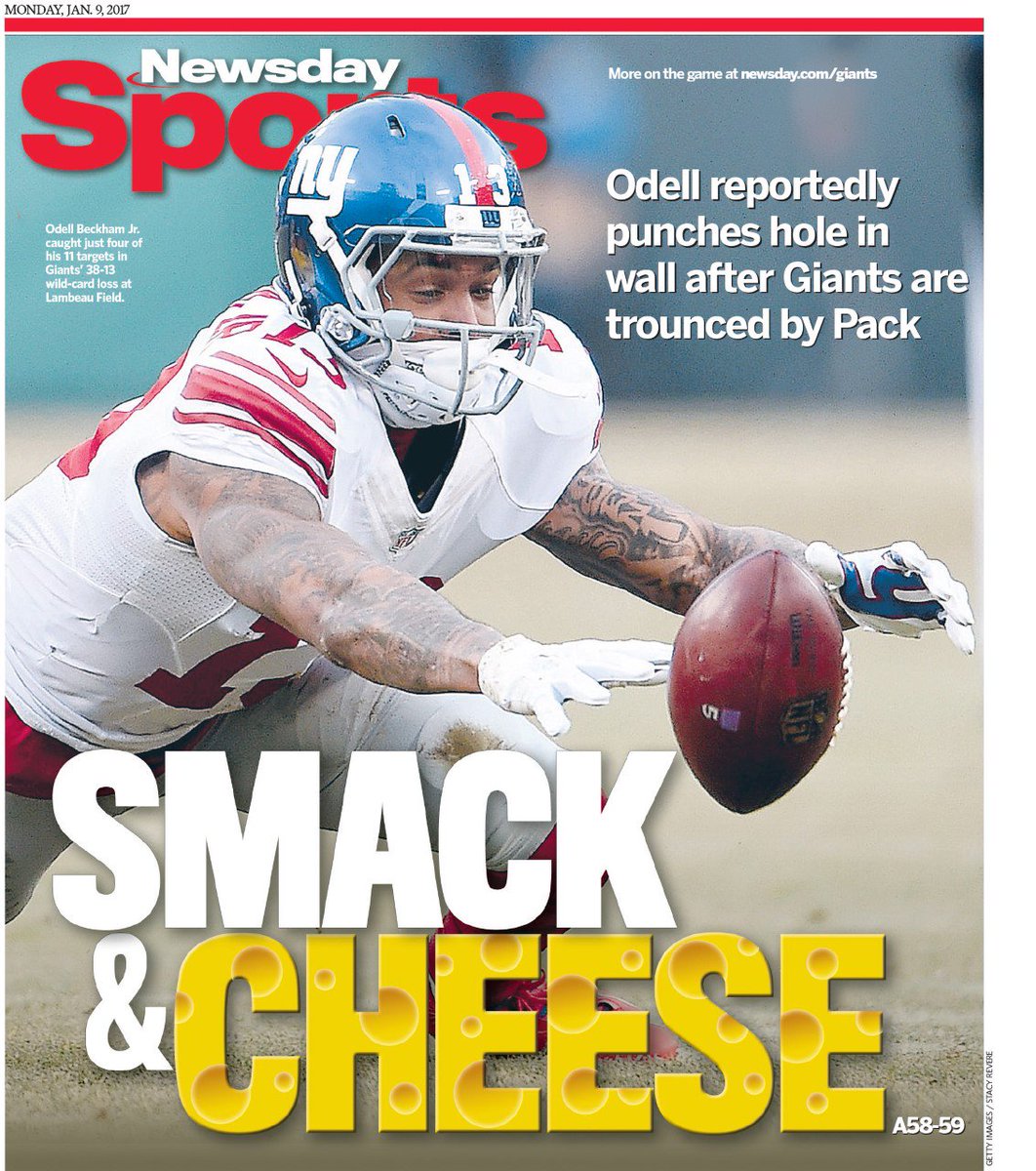 The New York Post's evisceration of the Giants starts with Mark Cannizzaro's obligatory reference to the mid-week player trip to Miami:
Yacht's all, Giants.

Their season of such progress and promise sank like a stone in a stunning 38-13 NFC wild-card loss to the Packers on Sunday night at Lambeau Field six days after four of their receivers partied in a well-publicized bender in Miami with Justin Bieber and other celebs.

To exacerbate matters, the receivers, led by star Odell Beckham Jr., came up smaller than small. Beckham caught only four passes for 28 yards on 11 targets and — worse yet — he had three key drops, a potential TD in the second quarter and two others on third-down conversions.

If you bet Tavarres King as the Giants leading receiver with three catches for 78 yards and a touchdown, you won a lot of money.

As bad as Beckham was in the biggest game of his career, the Giants first playoff appearance in five years, the Giants really were done in by a Hail Mary at the end of the first half.

Honest.

Yes, the Giants had seen this movie before.

But five years ago, they were the stars of the show. They were the ones basking in the glow of a euphoric happy ending. They were the ones moving on to an even better place and eventually the Super Bowl.

In an utterly uncanny occurrence, the climactic moment of both the 2012 show and the one that played out Sunday night took place at the same time of the game in the same end zone of the same stadium.

It came via the Hail Mary pass.

This time, though, the Packers were the stars of the show, moving on to play the Cowboys in Sunday's divisional round in Dallas.

Five years ago in a divisional playoff game between the Giants and Packers, it was Eli Manning connecting with Hakeem Nicks on a 37-yard Hail Mary on the final play of the half to give the Giants a 20-10 lead in a game they'd go on to win 37-20 en route to the Super Bowl.

This time, it was Packers quarterback Aaron Rodgers and Randall Cobb crushing the wills of the Giants defense, with Rodgers launching a Hail Mary into the frigid Green Bay night sky as the Packers' faithful watched it land into the arms of Cobb with no time remaining for a stunning 14-6 Green Bay lead at the half.

It was the second of four touchdown passes by Rodgers, who completed 25-of-40 for 362 yards.

On the play, Cobb got away with a push-off on Giants safety Leon Hall just before he leaped into the air and caught the ball in the back of the end zone with Landon Collins, Eli Apple, Keenan Robinson among others around the play.

The play capped a demoralizing final few minutes of a first half the Giants defense had mostly dominated.

The Giants' worst sin of the half — other than yielding the killer Hail Mary — was trying to beat Rodgers with field goals.

When the Packers took possession of the ball from the Giants' 38-yard line with 3:45 remaining in the half, they'd produced a total of 29 yards of offense in the game.

On the first play of that series, Rodgers connected with receiver Davante Adams on a 31-yard pass play over the head of Apple, the Giants rookie cornerback, to the Giants 7-yard line.

So in one play, the Packers outgained their previous output by 2 yards.

Two plays later, Rodgers, after dancing, darting and dodging around the Giants pass rush for a whopping eight seconds, hit Adams on a 5-yard scoring pass to give the Packers a 7-6 lead with 2:20 remaining in the half.

So all that work, nearly 28 minutes worth of dominating, and the Giants, who'd taken a 6-0 lead on two Robbie Gould field goals, were losing a game they would soon lose complete control of.
You don't think athletes have long memories? You don't think things stay with them as much as they stay with you? This was Aaron Rodgers, talking about one of the daggers of his career, delivered late on the afternoon of Jan. 15, 2012.

"It's a 13-10 game," Rodgers said, shaking his head, frowning at a memory exactly one week shy of five years old. "And then it's a 20-10 game."

Rodgers was on the sideline for that one, watching Eli Manning float a 37-yard prayer toward the north end zone at Lambeau Field in an NFC Divisional playoff game. When Manning launched it, the Packers were losing, but they were 15-1 and believed they were invulnerable. When it landed somehow in Hakeem Nicks' arms, it was the Giants who were suddenly bulletproof — and who would win a championship three weeks later.

"That," the Green Bay quarterback said, "was a momentum change."

So now, here was Rodgers, six seconds to go in the half. The Giants had dominated the first 25 or so minutes of the game, chasing Rodgers down, blanketing his receivers, frustrating him — "I looked up at one point," he would say, "and we had like 7 total yards" — beyond measure. …

So when Rodgers led a late touchdown drive, it put the Giants in a 7-6 hole, but on the road, at the half, you'll take that, especially as well as they'd played. So Rodgers dropped back, and if it's true nobody ever has thrown these Hail Mary balls better than him — "He gave it a great arc, so the receivers really have a chance," Packers coach Mike McCarthy would say — it's still a ball that winds up on the ground 98 percent of the time.

Except this time, it landed in Randall Cobb's arms. In the exact same northern end zone where another ball landed in Nicks' arms four years and 51 weeks earlier.

"I'm supposed to be the guy who boxes their guys out and opens things up for the other guys," Cobb would explain. "But I got behind the defense."

"I thought it was overthrown," Giants safety Landon Collins said.

"They just chuck it up there," Odell Beckham Jr. said. "And score."

Said Rodgers: "Suddenly, you feel like maybe this is going to be your day."

Actually, as it happened, that was exactly the message this one play delivered, a devastating memorandum the Giants were going to pay for their early reluctance to place their cleats on the Packers' necks.
Steve Serby:
It was his first playoff game, the biggest game of his life, and Odell Beckham Jr. (three drops, one an early dropped touchdown) was too invisible, and common sense tells most of us that it had nothing to do with spending his off day with Justin Bieber and/or Trey Songz.

But Beckham made that boat, and now he'll have to sink with it. He failed to make the big-time catches that big-time players are supposed to make. The catches that Randall Cobb (three touchdowns) was making all night.

Beckham's bid to be legendary turned into a legendary drop of the ball.

Sterling Shepard dropped a touchdown pass as well, so he apparently should have been home with milk and cookies instead of partying with Beckham and Victor Cruz and Roger Lewis Jr. in Miami Beach on the most infamous day off in the history of days off.

Party's over now for all the Giants — losers to the Packers.

For a boatload of reasons.

Ship of fools everywhere you turned Sunday night in Lambeau Field.

There were six seconds left in the first half of the 2011 divisional round when Eli Manning lofted a prayer toward the end zone marked GREEN BAY in gold letters and Hakeem Nicks answered it and the Giants were on their way to San Francisco and then Super Bowl XLVI.

There were six seconds left in the first half of Sunday's wild-card game when Aaron Rodgers lofted a prayer toward the very same end zone and somehow, some way, Randall Cobb shoved Leon Hall out of the way and answered the prayer in the back of the end zone behind an army of Giants and it was Packers 14, Giants 6 at the half.

The Hail Mary five years ago was 37 yards. This one was 42 yards.

Lambeau fell silent five years ago. Lambeau exploded in ecstasy this time.

What the football gods giveth, the football gods taketh away sometimes.

Hail No.

Hail No the Ben McAdoo Giants won't be headed to Dallas next weekend.

Hail No there won't be any fifth Lombardi Trophy in the Lobby showcase.

NYPD — New York Pass Defense — was an abbreviation for New York Putrid Defense.

Manning was more Playoff Eli than Regular-Season Eli, but against Rodgers (four touchdowns), you better be Playoff Eli on every possession. …

Rodgers had been flustered. He threw incomplete left when Aaron Ripkowski was wide open in the right flat. He was sacked out of field-goal range by Coty Sensabaugh, filling the void left by the early departure of Dominique Rodgers-Cromartie (thigh).

Then, on his third possession, Rodgers was sacked by Kerry Wynn and Romeo Okwara.

Manning found Will Tye with a seam pass worth 51 yards and soon it was 6-0.

A dangerous game, kicking field goals when you almost always need touchdowns against Rodgers.

But with Rodgers third-and-4 at the Giants 34, Rodgers scanned the field and found no one open and was flagged for intentional grounding.

Finally, Rodgers broke through.

Brad Wing's 37-yard punt positioned Rodgers at the NYG 38. With a flick of the wrist Rodgers found Adams streaking past Eli Apple along the right sidelines for 31 yards. Two plays later, as the Packers double-teamed Olivier Vernon, Rodgers had all the time he needed to thread the needle to Adams against Sensabaugh and the 5-yard TD made it Packers 7, Giants 6.

Then came the crusher.

Party's over.
The New York Daily News' Pat Leonard must have been looking over Vaccaro's shoulder:
No prayers could save the Giants from the wrath of Aaron Rodgers on Sunday, least of all the holy Hail Mary they used to beat the Packers five years ago.

The Giants, twice in a decade the NFL's team of destiny, saw their postseason hopes slip away at Lambeau Field in an agonizingly cruel twist of fate.

In one of the most unbelievable cases of karmic symmetry in football history, Big Blue's season-ending 38-13 Wild Card loss swung on a 42-yard Aaron Rodgers Hail Mary touchdown pass to Randall Cobb on the final play of the first half. …

Rodgers' rope from the right hash marks similarly put Ben McAdoo's first Giants team on the ropes. His pass improbably fell to Cobb in the back-middle left side of the end zone with Giants defensive backs Leon Hall, Eli Apple and Landon Collins closest in coverage, but none of them leaping high enough to defend the pass. …

And as Manning's offense floundered and the Tom Quinn-coached Giant special teams had an awful game that is going to get somebody fired, Rodgers picked the Giant defense apart in a bloodbath of a second half. …

But the Giants' shortcomings began with big drops by the two most prominent members of the Giants receivers Miami boat party last Monday: Odell Beckham Jr. and Sterling Shepard. They wasted a terrific start by Manning, who came out throwing the ball better than he had all season.

Beckham and Shepard dropped two passes apiece in the first half, including dropped touchdowns for each. Beckham dropped a touchdown pass on the Giants' second drive, Shepard on the Giants' third drive.

FOX's Jimmy Johnson, the former Dallas Cowboys coach, said at halftime of the receivers who partied in Miami on Monday: "The Boat Crew was 8-for-15 in the first half on targets their way. The rest of the receivers were 5-for-6."
Beckham wore these shoes, by the way:
And how did Beckham respond to the loss?
Odell Beckham's hands reportedly did more damage after the Giants' 38-13 loss to the Packers than they did during Big Blue's season-ending Wild Card playoff game.

Beckham, the Miami Monday party-goer who dropped a touchdown and two total passes to squander a hot start by Eli Manning, punched a hole in the wall outside the visiting locker room at Lambeau Field after the defeat, according to multiple reports.

Beckham also reportedly banged his head against the wall and had to be calmed down by stadium security.
Newsday's Bob Glauber adds:
When you are Odell Beckham Jr. and draw attention to yourself the way only a few athletes do, there is no in-between.

You either capture the imagination of the sports world with magnificent plays, like that impossible one-handed catch against the Cowboys in 2014. Or you become the object of scorn when you act out and turn into an uncontrollable diva, like the Josh Norman set-to in 2015 or the fits of temper through the first half of this season.

Or when you go on a jaunt to South Florida with a few teammates, hang out with Justin Bieber and two rappers and are shown shirtless on a boat a week before your first playoff game. And then underperform by dropping two key passes early on and another later in the game and finish with just four catches for 28 yards and no touchdowns. One of his drops was a key third down on the Giants' first series, and another a would-be touchdown later in the quarter.

There were several miserable performance by several Giants in a 38-13 beatdown by the Packers in Sunday's NFC wild-card game, but none was as scrutinized or criticized as much as Beckham's. He draws attention with his play and his off-field lifestyle, and you cannot help but focus in on him more than anyone else on this team. More than the coach and more than the quarterback, almost invariably the most scrutinized people on any team. …

The optics were certainly not good, especially when a picture of a shirtless Beckham and teammates Victor Cruz, Sterling Shepard and Roger Lewis Jr. swirled around social media and created plenty of heated discussion. But coach Ben McAdoo dismissed the issue almost immediately, saying the players could do as they wished on their day off. Eli Manning joked that the only disappointment he felt was that they didn't dress accordingly because they forgot to bring shorts and flip-flops.

After the game, Manning said he saw no evidence of a carryover from last week's trip.

"I thought our preparation was wonderful," he said. "Guys made plays all during practice and were ready for today and ready for the moment. No one knows why you don't go out and play your best. Overall, the Packers played better than we did and I think that's what it came down to. I guess we're used to (Beckham) making unbelievable catches. He didn't come down with some of those tough catches today. This game doesn't come down on him, it comes down on the whole offense and on everybody. Everybody had their miscues today, and those add up."

Linebacker Jonathan Casillas said he knew how the storyline might go.

"At the end of the day, we all knew if he had a bad game or we lost the game or if he dropped a pass it would come back to him, but I don't question his focus and I don't question his loyalty to the team, either," he said.

If anything, Beckham might have been too fired up.

"The guy was so fired up before the game he was emotional about it," Casillas said. "That had nothing to do with last week. It's the type of person he is, preparing for the game emotionally. It might have been too much for him. You have to have somebody like that who is a spark, an emotional spark, not only himself but for our team. I know he didn't finish the way he wanted to, for sure."

Beckham could have stayed home and read a few chapters of "War and Peace" or meditated on his day off, and he still might have played poorly. After all, how many times have prominent athletes — from Babe Ruth to Mickey Mantle to Max McGee to Jim McMahon — partied on their down time and come back to shine when the games started? There's no evidence of cause and effect here, because Beckham has been the subject of controversy before and still gone on to produce signature games.

This was not one of them, and he'll have to live with the consequences. And the criticism. It doesn't help his image that he reportedly punched a hole in a piece of sheetrock inside the Giants' locker room area after the game. But we've known all along that Beckham is a hot-tempered competitor, and this is in keeping with that narrative.
The New York Times even got in on the South Florida snark:
The Giants were not in Miami, and there were no boats in sight. But once again, Odell Beckham Jr. and several Giants wide receivers bared their chests, this time in defiance of the 12-degree temperature at Lambeau Field on Sunday.

The Giants players did it in early warm-ups, more than two and a half hours before their N.F.C. wild-card game against the Green Bay Packers.

"You want to come and get used to the elements," Beckham said. "We just kind of wanted to come out and say, forget about the cold."

The show of toughness, however, did not carry over to the game. Packers quarterback Aaron Rodgers threw four touchdown passes in a 38-13 rout, a loss that began with Beckham and his fellow wide receiver Sterling Shepard dropping four passes on the Giants' first two series. They each dropped one in the end zone.

The Giants dominated most of the first half, but they managed only two field goals by Robbie Gould. The Packers, however, came to life in the final three minutes of the second quarter as Rodgers threw for two touchdowns, including a 42-yard heave to Randall Cobb that six Giants defenders failed to knock down as time ran out on the half. …

Beckham caught four passes for 28 yards in his first playoff game, and he said that the trip he and three other receivers made to Miami last Monday after a victory over the Washington Redskins had nothing to do with it.

"It put it in people's minds that O.K., if the Giants lose, it's because you went to Miami," Beckham said.

He added: "At the end of the day, I went through practice, had zero drops, zero missed assignments. There was nothing that can connect seven days ago to today and how we came out and executed, nothing in the world. It's not realistic. It created a distraction for us. It's unfortunate, but that's the way the world is. The connection is just not there, in my opinion, but everybody is going to have their own opinion." …

The game carried a certain revenge factor for Rodgers, who had lost to Manning and the Giants in their two previous playoff matchups, both in Green Bay. And as many have noted, the winner of a Packers-Giants playoff game has gone on to win a championship in all five instances.