After one round of the NCAA basketball tournament, I'm pretty pleased.
Not only did Wisconsin win most convincingly, I picked four upsets correctly — ninth-seed Pittsburgh over eighth-seed Colorado (though that's not much of an upset), 11th-seed Dayton beating sixth-seed Ohio State ("O!S!U!"), 12th-seed Harvard over fifth-seed Cincinnati, and 12th-seed North Dakota State (coached by former UW assistant Saul Phillips) over fifth-seed Oklahoma. Too bad Saint Joseph ran out of gas against Connecticut in overtime and North Carolina State lost to Saint Louis because the Wolfpack missed more free throws than the Billikens.
For those who didn't know: Ohio State refers to itself as The Ohio State University, which is why the Dayton Daily News ran this headline: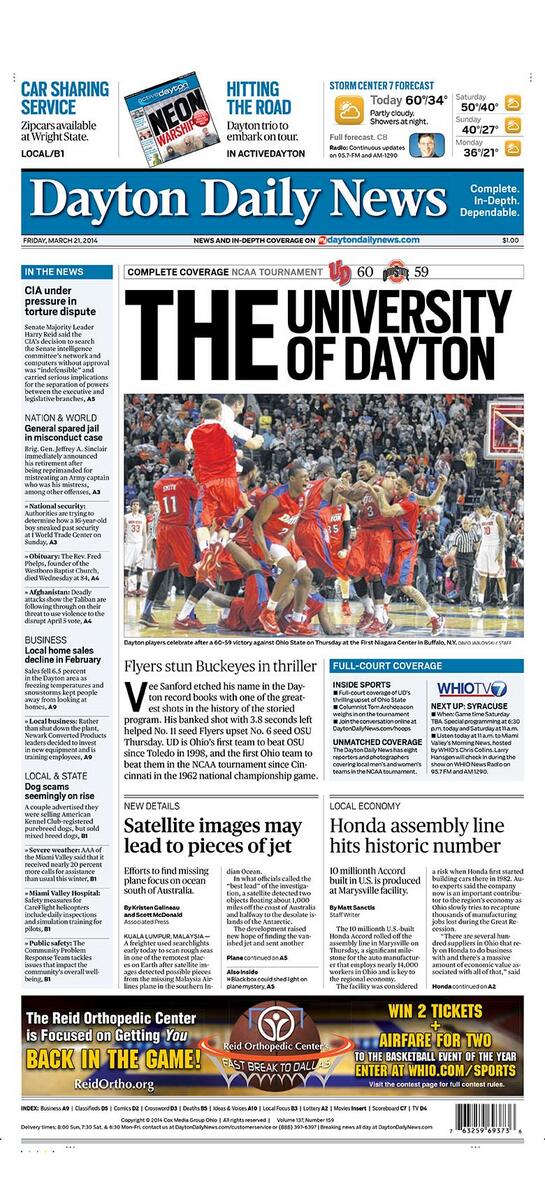 A Facebook Friend (and actual friend) reports that fewer than 10 percent of brackets picked the Panthers, Flyers and Crimson correctly. And that was before the next upset:
Which means, in my usual case, that the rest of my bracket(s) are going to go to hell as soon as today.
As readers know from the 2012 Rose Bowl, the Ducks are known for colorful uniforms, at least in football. Wisconsin has a new uniform from adidas for the tournament, which appears to have fewer red parts than the regular-season uniforms and replaces "WISCONSIN" with "BADGERS." No other changes are discernible.
As for the Ducks, as the lower seed they won't wear white, so they'll probably wear one of these:
Yes, you're seeing correctly. Oregon has yellow, green, dark green and "midnight green" ("black" in the rest of the visual universe") versions of their "Oregon" and "Fighting Ducks" uniforms, along with a throwback with yellow jersey and pants that, like the camouflage jersey, I assume won't be used.
This is the second year in a row that the UW first-round game (and, last year, UW's only game) was broadcast on truTV. The former Court TV isn't available to very many cable TV customers, which means a lot of UW fans didn't get to watch the game.
It's unclear to me why CBS, which has five decades of experience regionally broadcasting simultaneous NFL games, cannot have Wisconsin CBS stations carry the Badgers, moving the other games to TBS, TNT and truTV. Wisconsin fans without cable or satellite TV haven't been able to watch the Badgers in the Rose Bowl either since it moved from ABC to ESPN.
Meanwhile, if (and I don't think it'll happen, but it's not impossible) UW gets to the Final Four, Badger fans may be in for a treat similar to my Choose Your Own Announcer idea, according to Sports Illustrated:
For starters, TBS will televise both national semifinal games, the first time in tournament history the semifinal games will be televised on a cable network. But here's an even bigger nod toward the cable side of the partnership: The semifinals will air across three cable networks this year — TBS, TNT and truTV. TBS will air the traditional Final Four broadcast — aiming for neutrality — with Nantz, Anthony and Kerr. But here's where it gets interesting: The telecasts on TNT and truTV will be team-specific broadcasts where a separate play-by-play announcer, analyst and sideline reporter (Turner and CBS will start negotiating with potential broadcasters after the Sweet 16) will be encouraged to call the game with as much homerism as their pom-poms can muster. The "Teamcast" productions will have separate production crews, a custom halftime show, and custom graphics and stats geared toward each team. Commercials will be the same for all three telecasts. The title game will air on CBS two nights later.

Isn't this copying what ESPN did with its "Megacast" for the college football title game?

The Turner Sports brass says nyet. "We made that announcement prior to them doing the national championship game and it is going to be a lot different than what they did," said Turner Broadcasting president David Levy. "They didn't televise three different ways, so it's a very different direction. The ultimate thing is how we are doing storytelling for these games."

Who will be the announcers for these team-specific broadcasts?

That won't be decided until after the Sweet 16. Turner Sports senior vice president Craig Barry said he has a spreadsheet in his Atlanta office with a list of 120 potential announcers depending on the teams that advance. Ideally, Barry said he wants broadcasters with a level of professional experience who have called games in some form for those schools. It's not inconceivable a team's radio broadcasters would freelance for Turner Sports for the day. "If we can create an extended experience that really generates a lot of excitement and differentiates itself from our national telecast, then we have done our job," Barry said.
Is this a good idea?

Absolutely. Why? Because it offers viewers more options. Whether the teamcasts come off as Wayne World is anyone's guess. "I want to see how it works," [Charles] Barkley said. "It's going to be very interesting. Some of those local guys are such homers. You have to be careful. Some of these guys are ridiculous, it makes you laugh sometimes."
The choice will probably not be Wisconsin basketball announcer Matt Lepay, since he would be doing the game on radio. (Imagine that conversation at Learfield headquarters.) There are, however, two Wisconsin-based announcers who have considerable basketball experience. One is Brian Anderson, who will be doing Brewers' TV games next month, but is announcing tournament games this week. The other is Wayne Larrivee, the Packers' announcer, who used to call Chicago Bulls' games and has done a lot of college basketball as well.
There's another obvious choice, someone who has a quarter-century of basketball play-by-play experience, including college, on radio and TV, and who, unlike Anderson and Larrivee, is a UW grad. That would, of course, be me.