The prevailing attitude among Wisconsin Republicans seems to be against a recall of Gov. Tony Evers on the grounds that Gov. Scott Walker shouldn't have been recalled.
Republicans might want to rethink that as the toxic mix of incompetence and antipathy to anything but the most extreme left-wing positions (i.e. higher taxes and gun control) continues to fester in Madison.
On Friday, Evers spoke to the Wisconsin Association of School Boards convention, saying that spending more money on schools was more important than lowering property taxes. (To be precise, he said, "What's a higher property tax if little Billy can get ahead?") Evers obviously believes, as do teacher unions and government-employee unions, that the role of the taxpayer is to (1) pay taxes and (2) shut up.
Evers created a "nonpartisan" (which is not a synonym for "nonideological," by the way) redistricting commission. Perhaps Evers can create whatever he wants, but Article IV, section 3 of the state Constitution says:
At its first session after each enumeration made by the authority of the United States, the legislature shall apportion and district anew the members of the senate and assembly, according to the number of inhabitants.
Evers is apparently too lazy to do the work of creating a constitutional amendment and getting that through two sessions of the Legislature before a statewide referendum.
Evers also is violating state law, specifically the Open Records Law, with the added feature of threatening reporters. M.D. Kittle reports:
Gov. Tony Evers' assault on the First Amendment and open government continues, with one of his agencies threatening an NBC journalist with criminal charges for doing his job. 

National investigative reporter Mike Hixenbaugh exposed the unchecked power of child welfare agencies — with the assistance of physicians —  to take children away from their parents. His special report was met with silence and silencing orders from the Milwaukee County District Attorney's Office and the Wisconsin Department of Children and Families. 

"Authorities in Wisconsin did not want you to read this story," Hixenbaugh tweeted Monday. "First a prosecutor sought a gag order after I reached out seeking comment. Then a state agency sent me a cease and desist order warning of potential criminal charges." 

Authorities in Wisconsin did not want you to read this story. First a prosecutor sought a gag order after I reached out seeking comment. Then a state agency sent me a cease and desist order warning of potential criminal charges.

Proud of @NBCNews for publishing it anyway. https://t.co/Gd2QoK54wS

— Mike Hixenbaugh (@Mike_Hixenbaugh) January 27, 2020

In his story, the journalist noted Evers' DCF cited a state law that prevents the agency from disclosing details about child welfare investigations. When NBC News followed up with "specific questions" about the case, the agency warned Hixenbaugh that he could be charged for "publishing information obtained in a child abuse investigation file," the story states. 

Twitter followers of the story expressed their disgust with the agency — and an administration that has earned a reputation for keeping secrets. 

"This is unbelievable. This continues a disturbing trend of secrecy among some in the Evers administration," Assembly Majority Leader Jim Steineke (R-Kaukauna) wrote. "The @WisDCF must answer to why they are utilizing intimidation tactics to cover this up and more importantly why they continue to persecute this family." 

Steineke called for an investigation into DCF, and that the results should be made public. 

The investigative report features a couple whose adopted baby was removed from the home on allegations that her new father, a doctor, abused her, despite the fact that multiple physicians concluded the child was not intentionally injured. Child Protective Services took the girl from the home and placed her in foster care. Eight months later, she remains separated from her family and her father faces felony charges and possibly six years in prison, if convicted. 

Eric Bott, director of Americans for Prosperity-Wisconsin, likened the Milwaukee County District Attorney's office gag order to its use of John Doe secrecy orders in Wisconsin's infamous John Doe investigation. The politically-motivated probes into dozens of conservative groups silenced subjects and witnesses on penalty of jail time and costly fines. 

After the Wisconsin Supreme Court declared the investigations unconstitutional, the Republican-led Legislature reformed the state's John Doe laws. 

"I thought WI sent a message to DAs that unconstitutional gag orders wouldn't be tolerated when it passed John Doe reform," Bott tweeted. "Perhaps it's time to revisit these laws." He then tweeted this question to Milwaukee Journal Sentinel reporter Molly Beck: "now that reporters are targeted do you understand the importance of John Doe reform?" 

A Milwaukee County judge on Tuesday issued an order prohibiting all parties involved in the case from discussing it publicly, according to NBC Milwaukee affiliate WTMJ. 

The DCF case is just the latest example of the Evers administration's trouble with transparency. 

Last month, Fox6 News sued the governor for failing to turn over even one day of Evers' emails sought through an open records request. He eventually told the reporter that such emails would be "pretty boring," and that if he sent out one email a day, "that's an extraordinary day." 

Earlier this year, the MacIver Institute sued Evers in federal court for barring the conservative news agency from a budget briefing with fellow Capitol reporters. The Wisconsin Institute for Law & Liberty has also sued the state Department of Public Instruction and the agency's handpicked successor of the governor, who previously served as DPI superintendent. That lawsuit, too, involves transparency problems. Empower Wisconsin's executive director is a plaintiff in that lawsuit. 

It's not clear if the Evers administration will seek to enforce its cease-and-desist order against the NBC reporter. A spokeswoman for the governor did not return Empower Wisconsin's request for comment. Hixenbaugh was still reporting on the story as of Tuesday afternoon. 

In a tweet, Hixenbaugh alluded to the challenges he faced in reporting his investigative piece.

"This was one of the most difficult stories I've ever worked on, and not just because it's emotional," the NBC reporter wrote.
Evers is also a weasel. Kittle again:
By golly, folks, turns out Gov. Tony Evers is a political coward.

The Democrat apparently was so busy Tuesday he didn't have time to welcome Vice President Mike Pence to the Statehouse. Evers and his spokespeople originally wouldn't say what kept the governor away. But golly gee, wouldn't you know it, after taking some heat the Evers' team came up with an excuse Tuesday, insisting he had "meetings outside the building."

The governor's spokeswoman, Melissa Baldauff, claims the vice president, who appeared at the Capitol for a school choice event, hadn't reached out to Evers and that the governor's office learned about the visit from state Capitol police.

Really?

That sounds odd. But even it that was the case, isn't it kind of customary for the governor to at least acknowledge a vice president when he comes to the Capitol — a special occasion that hasn't occurred in more than 60 years?

Evers apparently couldn't move his schedule around to accommodate the vice president. Instead, the governor asked the media to do his bidding for him.

On Monday, he told reporters he hoped someone would ask the vice president if he agrees with U.S. Agriculture Secretary Sonny Perdue, who suggested smaller dairy farms will have to adapt and compete on an economy of scale in order to survive. Democrats, particularly Evers, have pushed a faulty narrative that President Trump doesn't care about the plight of small farmers and the troubled dairy industry.

Sounds like the governor thinks that's an important question, though. Just not important enough for him to personally ask Pence.

The truth of the matter is, school choice-hating Evers didn't want anything to do with Tuesday's rally. He has worked to undo Wisconsin's successful voucher program since his days as state superintendent. He sought to freeze statewide enrollment in his last budget proposal.

Instead, Evers' liberal activists turned out to shout "Shame! Shame!" at the vice president and Education Secretary Betsy DeVos, a staunch proponent of school choice. And his lieutenant governor, Mandela Barnes, injected racially charged comments into Pence's stop.

"In case this hasn't been mentioned, the rally in the Capitol today was the most interaction many of those adults will ever have with black and brown children," Barnes tweeted.

In case this hasn't been mentioned, the rally in the Capitol today was the most interaction many of those adults will ever have with black and brown children.

— Mandela Barnes (@TheOtherMandela) January 28, 2020

That's not only wrong-headed, it's wrong. Many of the adults who attended the Capitol rally are in education, daily striving to make better the lives of children of color and all students hungering for a better education — a way out of poverty and the public schools that have failed them.

The governor could take his lieutenant governor to task for such offensive sentiments,but he won't. That would take courage. And that's not an attribute you'll find in a political coward.
In contrast, notice former Gov. Scott Walker presenting …
… Barack Obama with Packers …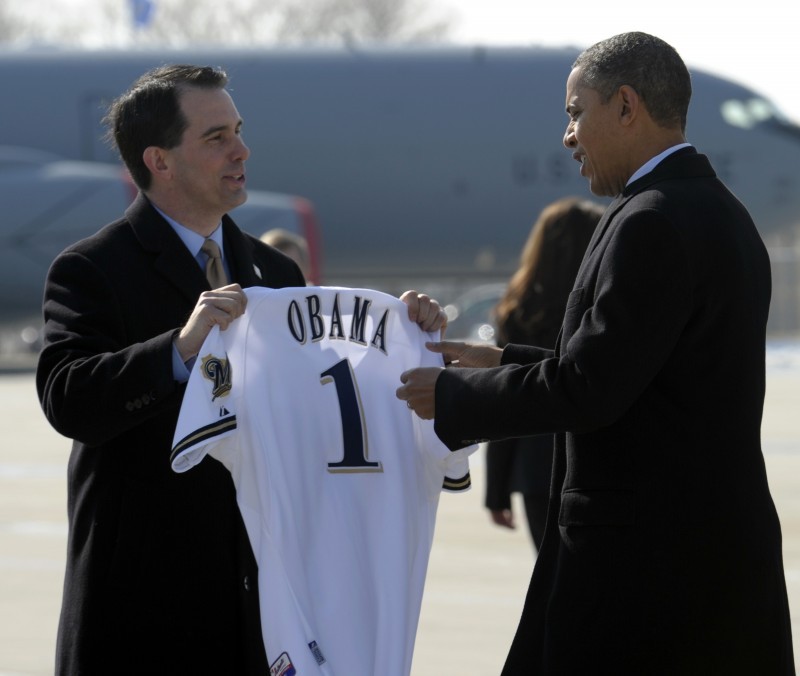 … and Brewers jerseys upon the former president's visits to Wisconsin.
Speaking of Barnes, Kittle writes:
Lt. Gov. Mandela Barnes believes we must "stymie capitalism" if we want to save the world from the threats of climate change.

That's what the Democrat told a gathering of fellow doom-and-gloomers last month during a panel discussion at the United Nations Climate Change Conference in Madrid. 

Barnes was joined on stage by a bevy of North American bureaucrats, including Canada's "Climate Ambassador" and Mexico's "Climate Change Director."

The "side event," as it was described on the conference agenda, was on "subnational strategies in North America for meeting Paris Commitments."  It was oozing with liberal politics. The session's smug host, blasting President Trump for pulling the United States out of the Paris Agreement, wondered aloud how the administration could fail to recognize the climate crisis facing the world. "How stupid can humanity be?"

"Why do we fail to act in the face of such obvious danger when the stakes are so high?" he asked.

It's not a question of stupidity, Barnes answered. It's a matter of greed. American capitalistic greed.

"The reason why we're in this mess is the pursuit of greed, it's capitalism run amok," the lieutenant governor said. "That's the same reason gun violence is so rampant in America, the same reason why we deal with all these other issues that have common-sense solutions but don't have a common-sense approach."

What's the solution? First, get money out of politics, said the liberal who became the youngest lieutenant governor in Wisconsin history thanks to money in politics.

"The second answer is stymie capitalism, the way it is in America," Barnes told the audience.

To do that, communities have to organize, he declared. But only left-wing communities that buy into radical, redistributionist ideas, like climate change hysteria. Barnes boasted about his time as a community organizer, and blamed "larger corporations" for many of the world's ills.

"Until money is less of an issue, we're going to continue on this path of destruction," he warned.

But money really is the issue. The U.N. Climate Change Conference called for more drastic measures in the left's war on fossil fuels. Democrats in congress and on the campaign trail are calling for trillions of dollars for a Green New Deal, on top of the trillions of dollars taxpayers and businesses have already spent on the climate change cash cow. Barnes heads up Gov. Tony Evers' task force on climate change with a very expensive  — and unrealistic — goal of making the Badger State carbon-free by 2050.

Craig Rucker, co-founder of the Washington,D.C.-based  Committee For A Constructive Tomorrow (CFACT) was at the Madrid conference and reported on the panel discussion.

"We've truly entered a new era in American governance when a top state elected official finds it worthwhile to travel to an international diplomatic event to proclaim what this world needs is to 'stymie capitalism,'" wrote Rucker, whose organization has spent the better part of the past 35 years trying to bring some balance and common sense to an issue long ago hijacked by radical environmentalists.

He confronted Barnes after the session. He found the lieutenant governor pleasant but his rhetoric shocking.

"Just making that comment is absolutely preposterous," Rucker told Empower Wisconsin. "He's enjoying the free market, and all of the attendees were enjoying their Christmas shopping in Madrid, which is a lovely town to shop in. And they're all flying on jet planes, thanks to capitalism."
The political calculus may well be that not enough Wisconsinites want Evers booted out of office. One has to wonder, though, at what point enough will be enough with a governor who makes former Gov. Tony Earl look competent and former Gov. James Doyle look like a nice guy.