The Wisconsin State Journal reports on tomorrow's news:
Jonathan Taylor had no problem wearing tan to his high school prom, and he doesn't see an issue wearing it for a University of Wisconsin football game.

"I'm a big tan guy," the Badgers junior running back said. "I like tan. You can pull it off if you do it the right way."

Judging from his reaction to the design Under Armour came up with for the eighth-ranked Badgers to wear Saturday against Northwestern at Camp Randall Stadium, Taylor thinks the company found a tasteful approach.

Tan isn't in UW's traditional palette but it's the color of the team's pants for this week's alternate uniform.

Under Armour, the provider of athletic apparel for both UW and Northwestern, said the designs both teams will wear Saturday are inspired by uniforms once worn by each team. The company issued them as part of the season-long celebration of 150 years of college football.

The Badgers have a largely traditional red jersey and white helmet with new touches on each: Large white letters UW on the chest and the same in red on the sides of the helmet. The back of the jersey doesn't include the player's name.

UW head football equipment manager Jeremy Amundson said Under Armour used a photo of a late 19th century Badgers football team as a basis and added its own touches.

One of them is the tan pants, which are more of a departure from the traditional white bottoms and carry an accent of a W inside a circle on the front of the left hip.

"When I saw the pants," said Taylor, who served as the Badgers' model for a video unveiling the uniform, "I'm like, 'Yeah, I like it.'"

Instead of the typical process of Under Armour representatives meeting with the team to come up with a design, Amundson said, the idea for Saturday's uniforms came directly from the manufacturer.

Company representatives approached UW with the idea in May 2018, and the Badgers jumped on board.

Northwestern's uniforms are out of the same design, only in purple and white and with NU instead of UW.

Amundson said Under Armour appealed to the NCAA to allow the jerseys to go without numbers on the front to more accurately replicate the ones being worn in an 1891 photo, but the organization nixed the idea.

The Badgers haven't worn a true alternate jersey since 2012, when Adidas made new looks for UW and Nebraska for a 30-27 Cornhuskers victory in Lincoln. Under coach Gary Andersen in 2013 and 2014, the Badgers experimented with red helmets and red pants.

Amundson said there are both practical and historical reasons why the Badgers don't typically have dozens of jersey combinations like some other schools.

The practical is money. A new set of helmets alone can cost up to $100,000, funds that he said would take away from other opportunities for athletes. For this week, UW is simply replacing decals on its existing helmets and swapping out red face masks for gray ones.

The historical is that, well, the Badgers have typically worn predictable combinations.

"There's definitely a traditional element to it," Amundson said. "We've never had a kid come here because he's going to get to wear any fancy uniform. We're pretty tried and true with our red and white."

Coach Paul Chryst acquiesced to players' wishes to change things up for last week's victory against Michigan and wear the black shoes that were being broken in as part of the new design for this week.

"He was on board," senior outside linebacker Zack Baun said. "He's more happy to see the guys energized about it. He's just happy that we're happy."

Other than Taylor, who was in on the plans for the alternate jersey because he wore it in the video shoot, players were unaware of the new look until fall camp.

Saying that the unveiling drew a positive reaction would be an understatement, Baun said.

"Everyone was screaming, yelling," he said. "I'm pretty sure I was jumping up and down. It's exciting because we've never got to do anything like that."

It was so well received, senior inside linebacker Chris Orr said, because it's so different from what's normal at UW.

"When you put it together from looking at the uniform that they're trying to imitate, it actually looks good," he said. "It looks like a new-age version of the old cotton sweaters that they were wearing. I like it."

At least one Badgers player made it sound like he would just as well play in one of those sweaters.

"They're just uniforms. Honestly, whatever," junior center Tyler Biadasz said. "We're going to be a different color, but we're still hitting the purple jerseys, I guess."
This is, of course, ridiculous. The only acceptable throwback uniform is this one …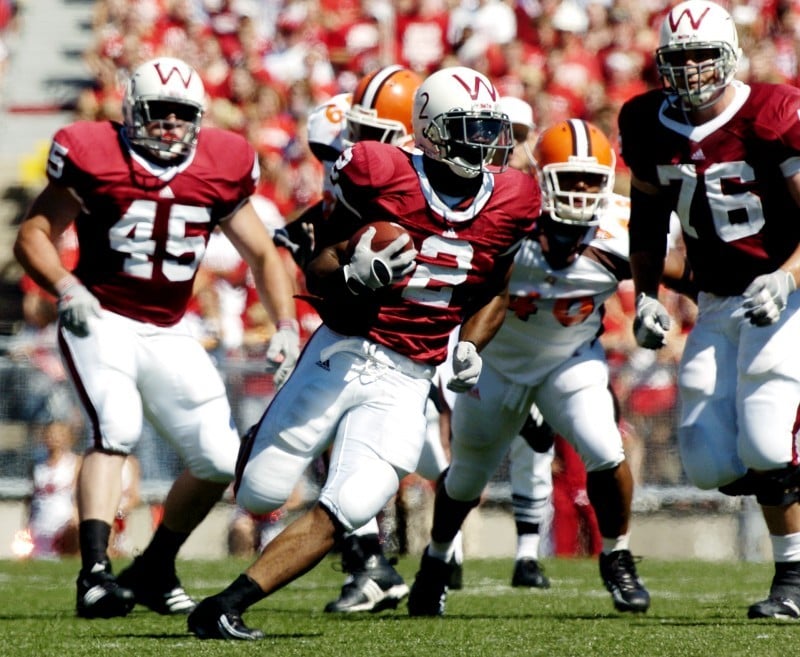 … from the 1960s Rose Bowl teams.
While I get the tan pants (because all football pants were tan canvas and, for that matter, all helmets were brown leather once upon a time), this goes back to no era of UW football.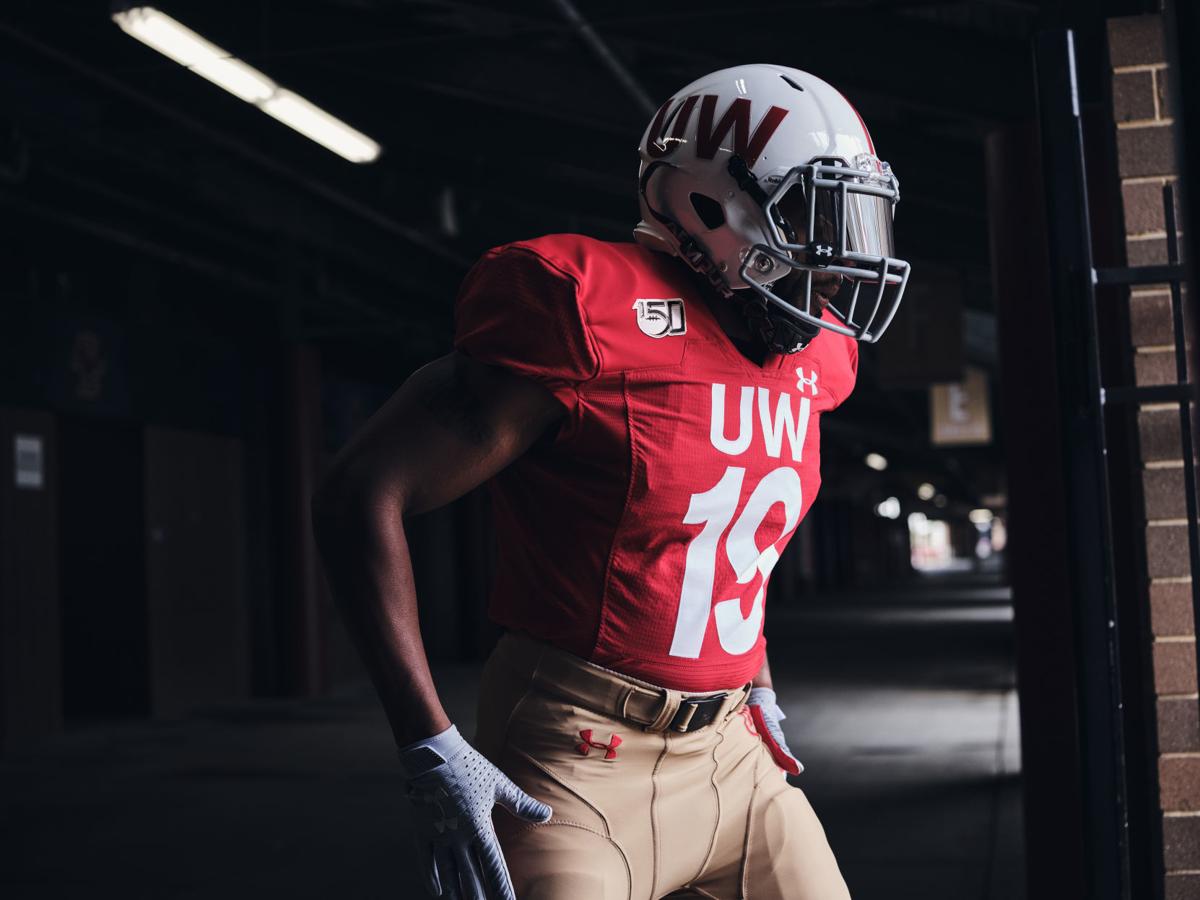 The throwback helmet had the W on the front, not a "UW" on the side, and at no point has UW ever used a non-serif number font or had "UW" on the front. These are as useless as the Blue Bay Packers throwbacks the Packers have been unfortunately wearing. And without the names on the back, well, if you're going to Saturday's game and you haven't seen them before tomorrow, your guess will be as good as anyone else's as to who is whom.
There may be only one way for this stupid trend to stop, and that is for the team that thinks this is a good idea to lose.