This week apparently includes two anniversaries, according to the American Association of State Highway and Transportation Officials:
In 1924, AASHO recommended the adoption of uniform sign practices based to a large extent upon the action of the Mississippi Valley Conference, but distinguished colors for "luminous signs," such as yellow for caution, red for "stop," and green for safety. It was, however, some time before the "reflectorized" sign came into extensive usage, awaiting the development of economic and effective materials.

And, then…

In 1957, the Chief Administrative Officers of the several Member Departments were meeting in LaSalle, Illinois, on August 14, to attend a policy meeting dealing with the AASHO Road Test Project (more about that in a later post!) The occasion was used for these Administrators to view suggested route marker designs on a section of country road near the Road Test Project. They were viewed under night and day-time conditions, and after some discussion it was decided to adopt a marker that combined certain features of designs submitted by the States of Texas and Missouri. The Committee on Administration thereupon by unanimous vote adopted the official marker which is used on the routes of the National System of Interstate and Defense Highways to this day.
Road signs have been another of my odd interests over time. (Which means I must have an interest in design, though there's nothing I really can design other than meals.) Starting with a trip to Detroit (the Ford plant where the Mustang II was being made, the Kellogg's cereal plant in Battle Creek — which you can't tour anymore — and Greenfield Village, a must-see for gearheads), I would draw road signs as Dad drove the Caprice along whatever Interstate highway we were on.
The graphic is cool because it depicts the original design of state highway signs in all their variety. Wisconsin, as you know, was the first state to number its state highways (though county highways have letters, as you also know), though the first design wasn't the triangle behind a square it was …
… a triangle. Wh0ever decided on that made a distinctive choice, though not a very usable design, which is how we got the square-over-triangle sign, which is at least original compared with circles (Iowa) or squares (other states).
The graphic shows that many states have, or had, state highway signs that either followed, or at least included, their state's shape. (Including Minnesota.) I've always preferred that, though Wisconsin's shape doesn't exactly lend itself to such a design, except possibly in outline. (And why the Division of Motor Vehicles doesn't use a Wisconsin shape in place of the dash on non-personalized license plates is something I don't understand either.)
Speaking of Interstate highways …
Last week was the 56th anniversary of the opening of the first segment of Wisconsin's first Interstate highway, I–94 between what now is Wisconsin 164/Waukesha County Y/Waukesha County JJ and Waukesha County SS.
Seven years later, on Oct. 27, 1965, Gov. Warren Knowles celebrated my impending five-month birthday by opening the last segment of I–94 between Madison and Milwaukee. In the pre-Interstate days, getting from Madison to Milwaukee required going on either Wisconsin 30 (pretty much the current I–94 route), or U.S. 18, which meant going through Cambridge, Jefferson, Oconomowoc and Waukesha to get to Milwaukee.
One year after the first part of I–94 opened, the first part of Interstate 90 opened, from the Illinois Tollway just south of the Wisconsin–Illinois state line to Janesville. The Interstate east of Madison (I–90 from U.S. 12/18 to I–94, and I–90/94 northward to the Dells and, eventually, Tomah) opened in 1961.
From the 1940s, when what became the Interstate Highway System began to be mapped out, I–94 was always intended to be a Twin Cities-to-Eau Claire-to-Madison-to-Milwaukee-to-Chicago route. I–90 was intended to be a Madison-to-Beloit route, but west from Madison things changed.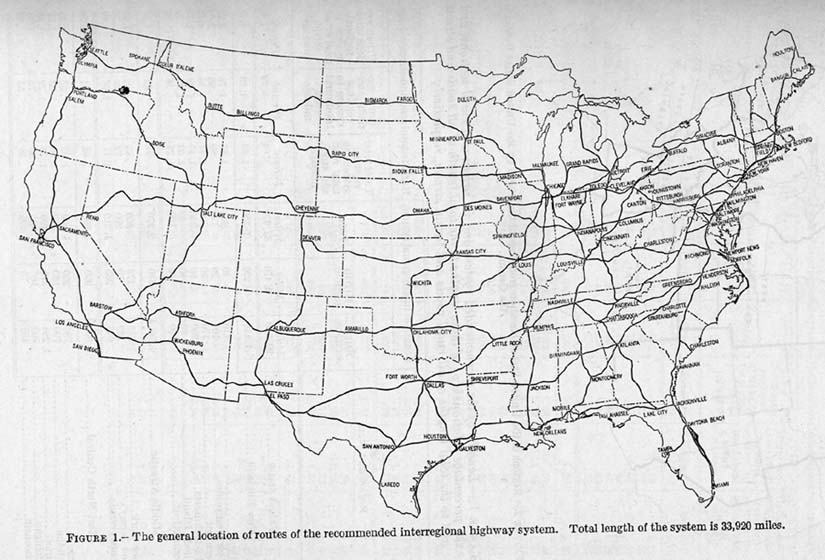 Notice that the freeway west from Milwaukee goes straight west. What became I–90 was originally supposed to follow U.S. 18's approximate route into Iowa. Instead …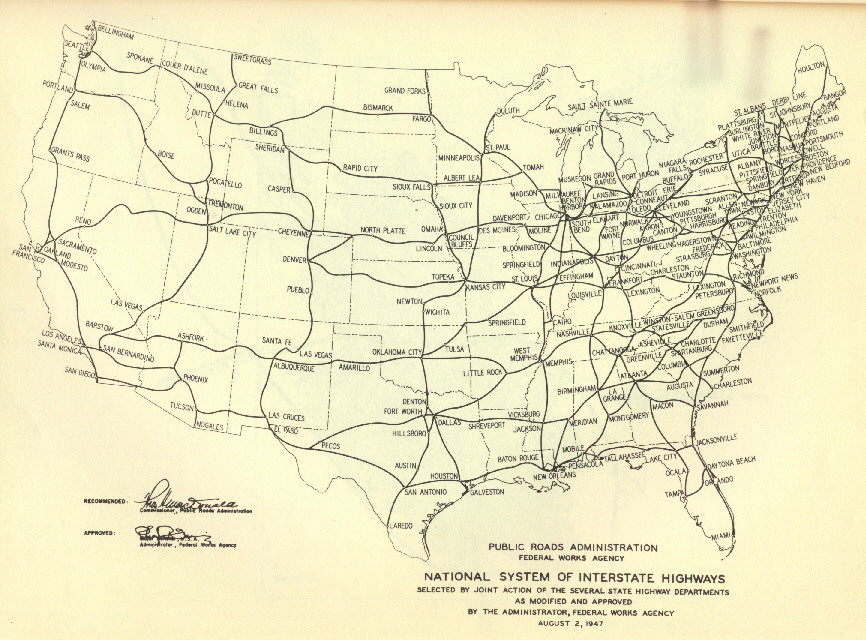 … I–90 went north to link to La Crosse and Rochester, Minn., saving money as well because of using the I–94 routing to Tomah. The original I–90 routing, or a proposal to have I–90 follow U.S. 14 from La Crosse to Madison via what now is the South Beltline, could have changed western and southwestern Wisconsin development substantially.
Speaking of the Beltline, according to the state Department of Transportation, its history dates back to first construction in 1949 of the "South Beltline" and "East Beltline," which is U.S. 51, more commonly known as Stoughton Road. I had no idea the Beltline was that old. Obviously it was designed in a day before Madison took an official position against the automobile.
The red shows the Beltline and Madison in 1956. According to maps I've seen, by 1956 the Beltline was four lanes from Park Street (in the middle-lower right) west to about the curve west of Verona Road, where it didn't get upgraded to four lanes until the late 1960s. (I always remember the West Beltline, which is technically from Park Street westward, as four lanes, though it was two lanes north of Mineral Point Road until the mid-2000s.
The Beltline comes to mind because a massive reconstruction project is under way at the Beltline–Verona Road interchange. The portion of U.S. 151 from east of Verona to the Beltline slows traffic down to stoplights. It is a huge bottleneck, and as usual the state is about 30 years behind upgrading that portion. Worse, in this case, because there is no good away around Verona Road, the project is taking place while traffic goes through it, both delaying construction and making the bottleneck even worse.